Athletics Update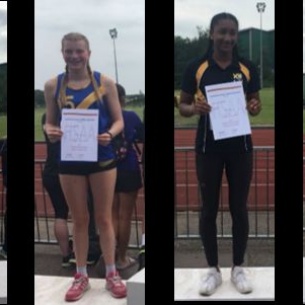 The summer term sees the commencement of the athletics fixtures. This is a great time for students to try and beat their own personal best whilst working together as a team. The current Year 8 Athletics Team have made it through to the County Plate final on July 2nd and we eagerly await their result.

Saturday 9th June was Hertfordshire Schools Athletics Championships and the chance to be crowned County champion. We had some very successful performances throughout all years. Congratulations to the following students who all came in the top three for their age group in the County: Annabel Hedge, Year 7, Gold 800m; Antonia Jubb, Year 8, Silver 1500m; Emma Afari, Year 9, Bronze 100m; Kiera Stern, Year 11, Silver 1500m.

Thursday 14th June was a chance for athletes to compete against other schools within the district at the all-day district championships. There were some amazing performances from all year groups and one district record broken by Antonia Jubb, who now holds the record for the Year 7 and Year 8 1500m. I have placed a table below of all the athletes who medalled at this event. Not only are individual performances rewarded but each athlete scores points for their team. Both the Year 8 and Year 10 team narrowly missed out and were placed 4th overall. The Year 9 team came in second place, matching their achievement from last year.
Mrs S Pennock, Physical Education
Year 7
Year 8
Year 9
Year 10

Gold

Annabell Hedge, 1500m

Gold
Antonia Jubb, 1500m
Hannah Simpson, High Jump
Millie Drury, Long Jump
Gold
Emma Afari, 100m
Gold
Jess Simpson, 200m
Silver
Silver
Orla Foley, 800m
Millie Drury, 200m
Silver
Eve Slater, 75m hurdles
Nia Boty, 800m
Emma Afari, High Jump
Teyah Goldie, 300m
4x 100m relay team:
Emma Afari
Eve Slater
Rebecca Adu-Poku
Gabby McGlenn
Silver
Anouk Denton, 300m
Bronze
Ava Rose, 100m
Bronze
Bronze
Bronze
Gina Bentley, Discus
Laura Gifford, 800m
4x 100m relay team:
Jess Simpson
Maddy Stanley
Anouck Denton
Leah Shenton