Author Emily Thomas Magically Proves Tides Can Turn In Her New Book Entitled 'Mud'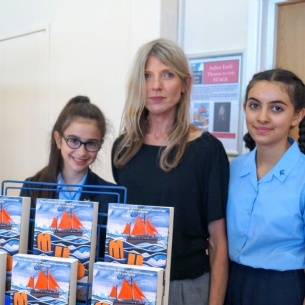 On Tuesday 3rd July, author Emily Thomas came to talk to Year 8 students about her brand new book 'Mud'. This semi-autobiographical book is a charming, funny story about the challenges of adolescence, grief, family life and growing up on a barge moored on a muddy bank on the Thames. It describes a teenager's life from the perspective of a young girl named Lydia who lives on the barge with her father, stepmother, three stepchildren and two siblings.

Before she died, Lydia's mother gave her a diary as a birthday present and told her to write down anything worthy of note. Lydia does as instructed and discovers that writing things down allows her to creatively express herself. These diary entries go on to provide her with a special escape mechanism, and she uses it as an invaluable method of getting things out of her system which eventually saves her life.

The poignant story takes extracts from the diary entries and describes dramatic experiences, some of which are life changing. It explains how Lydia managed to make sense of her feelings and overcome her difficulties by turning negatives into positives. After listening to the talk, Year 8 student, Sadie Bell-Blakely, said: "Having heard how hard it is to live on a boat, it makes me very grateful for my lifestyle and all that I have now."

Emily Thomas, who is also an editor, confessed that she had not always wanted to become an author, but said she enjoyed writing the book because it proved to be a very cathartic, nostalgic experience. She went on to say she would like to eventually write another book about Lydia later on in her life. At the end of the talk there was an opportunity for some of the students to meet Emily and have a book signed.
For more information about the book visit the link below:
https://www.penguin.co.uk/books/1115737/mud/

Ms Darbyshire