Art Textiles
A Level

Exam Board: AQA
Specification Number: 7204
What will be studied?
This Art Textiles course includes the development of creativity around the media of textiles as a means for communicating Art. Students are able to specialise in an array of textiles techniques including batik, free machine embroidery, felt making, applique, reverse applique and the application of hot textiles such as Angelina Fibres and use of bondaweb to create sculptures and pieces of art work. Students are able to specialise in the area in which they are particularly interested through individual project work. Guidance is given in the use of materials and working methods, development of visual ideas and contextual studies.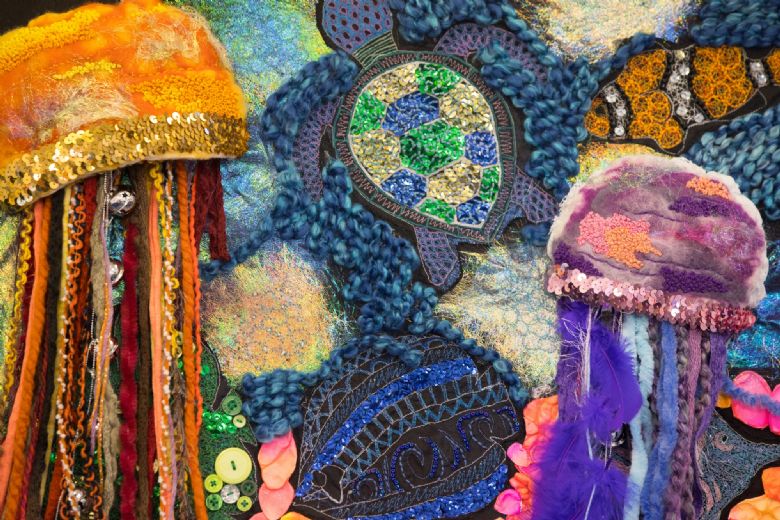 Assessment:
At the start of the course, most lessons are directed towards broadening experience and the practice of basic methods and materials. Gradually during the course the emphasis changes towards self-directed projects where a more individual response can be achieved within the chosen project brief. Students are provided with a handbook which contains more guidance with specific targets and dates and room for tutorial notes.
Expectations of students:
Students are expected to take part in personal and group visits to galleries and exhibitions in order to experience art work at first hand. Students must commit to five hours of Art Textiles preparation per week. Some specialist materials will be needed for use in this course.
What websites are recommended?
What equipment is needed?
Basic sewing kit, embroidery hoop, a range of different coloured cotton sewing threads, and a range of different coloured embroidery threads.
Career Paths:
Most Art & Design/Art Textiles courses require a portfolio for entrance from which they can judge the students ability, commitment and potential for themselves. Completion of the A level course will help the students to develop a portfolio of the required standard. Many students will also go onto doing a one year Art foundation course prior to degree level application, although direct entry level to degree courses from school is not impossible for the most able and committed.