Computing & ICT
The Department
Curriculum Leader: Miss B Soler
KS3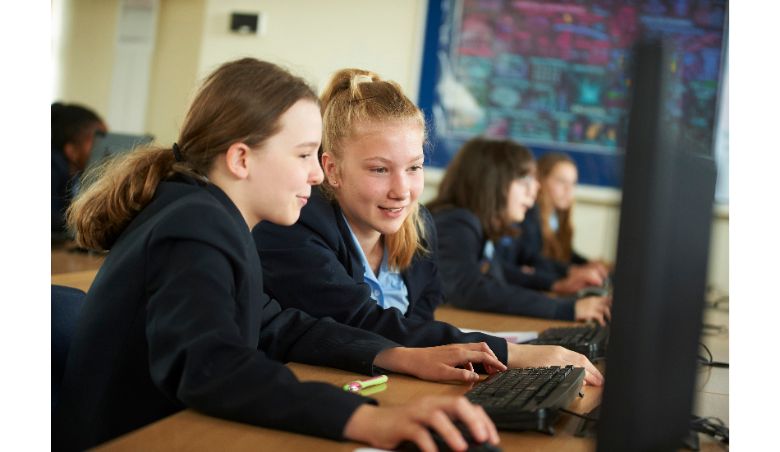 An enjoyment and interest in problem solving and technical challenges is at the forefront of our teaching and learning in Computing. We aim to equip students with the skills and understanding to thrive in the digital age and be confident users of computer hardware and software.
What will be studied?
Year 7
Our STAGS Network: Intro to using our IT resources
E-safety: Staying safe online
Programming Languages: Logo, Scratch and Python
Spreadsheet Modelling: Modelling the school Tuck shop
Year 8
Computational Thinking: Decomposition, Abstraction and Algorithms
Programming languages: Flowol and Python
BIG Data analysis: Use of software to analyse data
Website development and Internet Knowhow: HTML, CSS and JavaScript
Year 9
How computers work: Motherboard, CPU, RAM, ROM and other hardware
Programming languages: Using Python to solve complex problems
Spreadsheet Modelling: Financial Models
App development: Social media app programming
What support is needed?
Use of Teach-ict.com
Use of BBC Bitesize
Use of codeacademy.com
Keeping up with technological developments through resources such as BBC Click, BBC Make IT Digital, The gadget man etc.
Use teaching resources on Google Classroom
How will they be assessed?
Assessment is mainly through unit project work and occasionally through end of module tests.
---
GCSE: Computer Science
Exam Board: OCR
Specification Number: J276
What will be studied?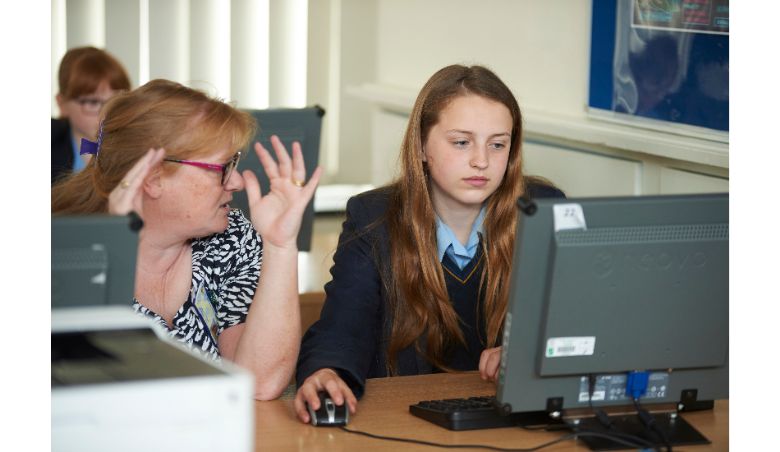 This practical qualification encourages students to develop their understanding and application of the core concepts in Computer Science. Students also analyse problems in computational terms and devise creative solutions by designing, writing, testing and evaluating programs. Relevant to the modern changing world of computing, it is designed to boost the computing skills essential for the 21st century.
At KS4 we celebrate success by rewarding effort in lessons by awarding house points and nominating computing students of the month.
We also organise visits to allow students to experience the world of computer science outside of school.
How is the course assessed?
Computer Systems theory paper, 1.5 hours, 50%
Computational Thinking theory paper, 1.5 hours, 50%
Additionally, students will undertake a 20 hours in-school programming project which will support their understanding across the whole specification. For this project a real life problem will be set up by the exam board and students will program a solution and document its development.
What references are recommended?
We have OCR textbooks that we would recommend. Parents can contact the department if they would like the ISBN numbers. We have a vast amount of resources on Google Classroom.
What websites are recommended?
BBC Bitesize and Teach-ict for theory learning and OCR for past papers.
Codeacademy and W3schools for learning programming languages.
What equipment is needed?
A calculator is useful for testing results of programs.
---
Cambridge National in Information Technologies
Exam Board: OCR
Specification Number: J808
What will be studied?
This qualification is equivalent to one GCSE in both size and rigour.
The Cambridge National in Information Technologies gives students a real understanding of their digital environment, helps to develop key skills and prepares them for their future use of IT in their chosen careers across a wide range of job roles. The course is broken down into four main themes:
Project initiation, planning and review
Collecting, manipulating/processing and storing data
Creatively developing meaningful information for costumer distribution
Awareness of the importance of legal, moral, ethical and security factors
How is the course assessed?
Understanding tools, techniques, methods and processes for technological solutions theory paper, 1hr 45 min, 50%
Developing technological solutions (practical task-based assessment), centre-assessed unit, 50%
What websites are recommended?
Teach-ict for theory learning and OCR for practice papers and specification. All resources are shared with the students on Google Classroom.
---
A Level Computer Science
Exam Board: OCR
Specification Number: H046
What will be studied?
The course is focused on problem solving using computers and has an emphasis on the use of programming languages and mathematical skills used to express computational laws and processes. It aims to develop critical thinkers that understand the power and limits of human and machine intelligence.
Unit 1 – Computer Systems
Computer architecture (processors, input, output and storage devices)
Software development and low and high level languages
Exchanging data (compression, encryption, hacking, databases, networks and web technologies)
Data types, data structures and boolean algebra
Legal, moral, cultural and ethical issues
Unit 2 – Algorithms and programming
Computational thinking (thinking: abstractly, ahead, procedurally, logically and concurrently )
Problem solving and programming (Java, C, Python)
Algorithms to solve problems and standard algorithms (Efficiency of algorithms and sorting and searching algorithms)
Unit 3 – Programming project (coursework / Non-exam assessment)
User-driven systems lifecycle project
Analyse a problem and design a solution
Implement the solution
Test and evaluate the solution
How is the course assessed?
Paper 1 – 2.5 hour theory written paper (40%)
Paper 2 – 2.5 hour practical programming exam (40%)
Non exam assessment – independent programming project (20%)
What texts are recommended?
Computer Science: An Overview by J. Glenn Brookshear
Algorithmic Puzzles by Anany Levitin and Maria Levitin
Code: The Hidden Language of Computer Hardware and Software by Charles Petzod
What websites are recommended?
http://www.bbc.co.uk/makeitdigital
https://www.codecademy.com/learn
What equipment is needed?
Computer at home is very useful for accessing work and tasks as well as installing programming software. A calculator is also very useful.