Core REP
Religion, Ethics and Philosophy (REP) promotes community cohesion by helping students to learn to understand others and value diversity whilst also promoting shared values and an awareness of human rights. REP provides students with opportunities to further their spiritual, moral, social and cultural development, enabling them to grow as individuals with a sense of identity as well as belonging, in order to contribute positively and effectively to society.
The Department
Curriculum Leader: Ms S Wilson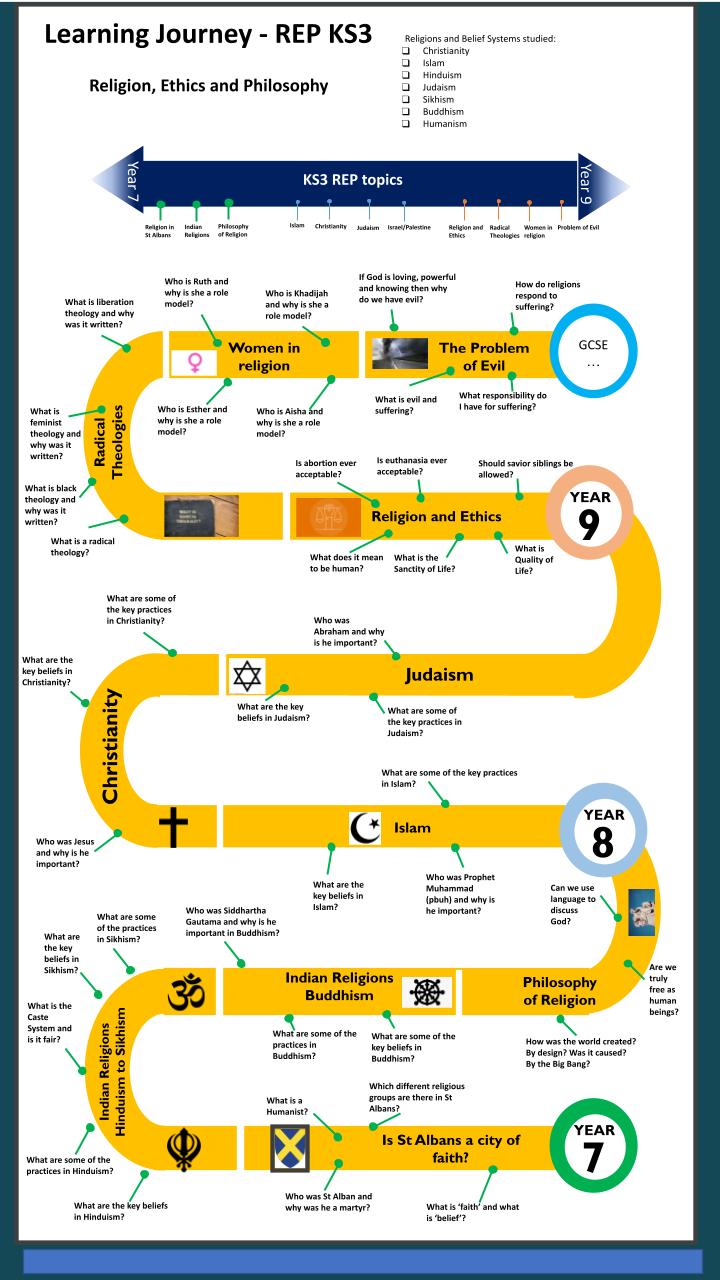 KS3
What will be studied?
In Key Stage 3, students will study all six major world religions. They will be taught once a week and topics are generally focused on for a term; allowing students to deepen their knowledge and understanding of each religion.
Year 7
Religion in St Albans: Students will look at the different religious groups within St Albans and will study some of the places of worship.

Indian Religions: Students will be studying the beliefs, teachings and practices of Sikhism, Hinduism and Buddhism.

Philosophy of Religion: Students will be looking at some of life's ultimate questions. Students will analyse key philosophical arguments such as the Teleological and Cosmological arguments alongside the argument about whether we are free or not.
Year 8
Islam: Students will be studying the beliefs, teachings and practices of Islam.

Christianity: Students will be studying the beliefs, teachings and practices of Christianity.

Radical Theologies: Students will be studying three types of radical theology; black theology, feminist theology and liberation theology.

World Religions: Students will analyse why the major world religions are called 'Abrahamic' and 'Indian' religions. Students will also analyse the Humanist perspective. Students will conduct a study into some of the smaller world religions such as Taoism, Jainism and Zoroastrianism.
Year 9
Matters of Life and Death: Students will be studying some of the key ethical debates that exist in the world today. Students will look at the medical practices of abortion, euthanasia, genetic engineering and organ donation and consider the different ethical implications that goes with each of these debated.

Judaism: Students will be studying the beliefs, teachings and practices of Judaism.

Problem of Evil: 'If evil and suffering exists, does God exist?' Students will study the Problem of Evil and begin to question the nature of God. Students will compare all religions learnt and their understanding of suffering and relate them to modern day examples of Moral and Natural Evil.
What support is needed?
Students will really benefit by taking part in discussions at home about what they have learnt as well as what they and their family think about topics.
Reading newspapers, magazines and watching relevant TV programmes
How will students be assessed?
Tests at the end of each module
Through Unit Assessment projects
End of year examination
---
KS4
What will be studied?
In Years 10 and 11 Students are required to attend REP core lessons, they are part of a carousel system with PSHE.
Year 10
In year 10, students will engage with the following topics:
Religion and Media: How is religion represented in the media? Is it fair to each religion? Are some religions misrepresented?
Secularism: What is secularism? How is it challenging for religions? Is Britain a secular country?
Philosophy of Religion: Who are some key founding philosophers? What are their views?
Year 11
In year 11, students will engage with the following topics:
Just War: Can war ever be just? What is the just war theory? Are there any examples of just wars?
Crime and Punishment: What is Crime? What are the aims of punishment? Do they work? Should the Death Penalty be allowed? What do religions think of the Death Penalty?

---
Post 16
What will be studied?
Students will focus on the concept of good and evil, discussing the issues surrounding moral and natural evil as well as the problems of war.