EduLink One
Please find below a link to the STAGS Parental Support Video for Edulink One. From Tuesday 22 September you will be able to update your personal details as shown in the video. You will also be able to update any medical conditions. Please ensure that if you daughter /son has a medical condition that you have made us aware. This now replaces the OV7 Form.

If any parent should not have access to addresses or telephone numbers via Edulink, please ensure you email VBN@stags.herts.sch.uk

Only those who have Parental responsibility will be able to update personal information.

The video can be found here.
---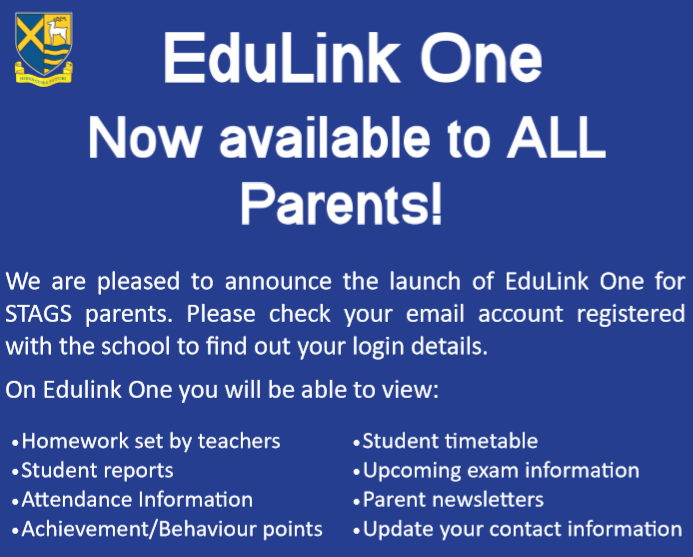 EduLink One provides an integrated school information platform which draws together all your child's information and the varying facilities you need to use as a parent.
How do I get a log-in for EduLink? - Parents will receive their username via email from the school. Please ensure your email address is up-to-date with the school office.
If you have not received an email or would like to access Edulink One, please contact us at edulink@stags.herts.sch.uk
A child's personal data merits particular protection under the new data protection law which came into effect in May 2018. Parents with Parental Responsibility will be provided with a log-in for EduLink as the software provides access and editing functionality to a child's personal data. If the school has not been able to verify Parental Responsibility for a parent, evidence will need to be provided.