Anna Lofts of 11H Visits The Independent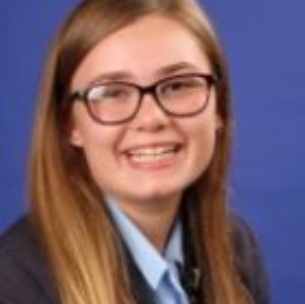 In Year 10 and I already have my name in a published article: so, how did that happen?
On Friday 13th July I travelled into London to the offices of The Independent for my Year 10 Work Experience Day. Not only was this an extremely rare and exhilarating opportunity, it was a monumental day for the whole of the United Kingdom, especially London, as US president Donald Trump was visiting. This resulted in many protests and unsurprisingly a very busy day for journalists.
I was met by Eleanor Busby, an education correspondent at The Independent, who previously attended STAGS and very kindly organised this work experience placement for me. She has also attended careers events at the school, which is where I first made contact with her, and spoke at last year's Year 11 GCSE Certificate Evening. I remember walking into the office building, which is also home to The Daily Mail, and being greeted with a bustling atmosphere and a luxuriously grand atrium situated in the centre of all of the offices. All of the work taking place around me felt very important and corporate from the minute I stepped into the building. Was I buzzing? Absolutely.
Once Eleanor and I had reached The Independent's office and after she had given me a tour of the desks, to my delight she immediately set me off on helping her source content and information for the article she was writing about children protesting Donald Trump's policies on guns and immigration. The research was interesting and an engaging way to immerse myself in the everyday tasks of a journalist as I was experiencing their job first-hand. It made me feel as though I really was a journalist for the day. Throughout the morning I fed back to Eleanor on what I had discovered and then she showed me the process she follows to upload stories to The Independent's website and how she communicates with her colleagues. This gave me a unique insight into the logistical sides of her job that I was not aware of before-hand.
After lunchtime I continued researching. I found it refreshing and exciting to constantly be aware of the news and receive minute by minute updates of the protests occurring in London, rather than being informed about it later that day when the news would no longer be new.
My day at The Independent quickly drew to an end as I was constantly busy and enjoying myself so much. Just before I left Eleanor told me that in her article she had included a tweet that I had found. Therefore, she kindly asked me, if I would like my name to appear next to hers in the by-line of the article. Inside, I was doing a very happy victory dance! Later that day, Eleanor emailed me a link to the article and there my name was in the by-line. I was absolutely thrilled and so grateful to Eleanor. Never in a million years would I have thought that I would be given such a special opportunity. I am still amazed that at the age of 15 I already have my name appeared with an article on the website of The Independent newspaper.
On reflection, my work experience at The Independent was a huge success. I learned a massive amount and I am now even more passionate about journalism. I'd like to take this opportunity to say a big thank you to Eleanor for inviting me to The Independent, for making my time there so interesting and fun and for going out of her way to put my name next to hers in the by-line of her article. I will remember this special day for a very long time.
Here is a link to the article: https://www.independent.co.uk/news/uk/trump-protests-visit-uk-children-signs-england-london-guns-immigration-a8446291.html
Anna Lofts, Year 11H