Year 7 Football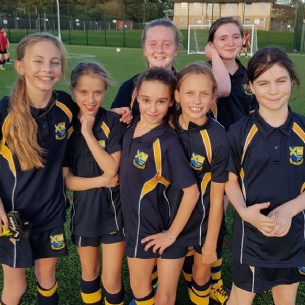 On 23 October 2018 St Albans Girls School's year 7 had a friendly against Roundwood U14s.
The players and set up:
Amber Harber 7F

Elena Patreman 7C

Tamar Andrews 7H
Ruby Littlechild 7S

Izzy Adams 7J

Daisy Feinson 7J

Purdy Brooks 7H

Iris Foley 7H
From kick off, STAGS got off to a great start and were determined to win the match. Roundwood gave an early foul just outside the box, Purdy Brooks took the freekick and could of put STAGS in front, but it just hit the crossbar. Roundwood had a few shots and Amber Harber pulled out three unbelievable saves. Roundwood and STAGS were still level at 0-0 until Roundwood took a shot and scored. They then went on to score two more goals. STAGSs kept their heads up throughout until the half time whistle was blown.
Half Time Score 3-0. At half time STAGS knew a goal was coming and we had a chance. There was good interlink play between Iris and Daisy.
Second Half: Roundwood scored. STAGS pressured Roundwood defence. Daisy Feinson pressured their defence and forcefully dribbled towards their goal. Daisy laid it off in front of Purdy. Purdy took a touch and shot. STAGS had a goal and the score was 4-1. STAGS were so happy about scoring against Year 9s. Roundwood had just took two goals in the last ten minutes.
Full Time
End Score 6-1
Girl of the match nominated by the other team were Amber Harber and Purdy Brooks.
Purdy Brooks, Year 7H