Student Support at STAGS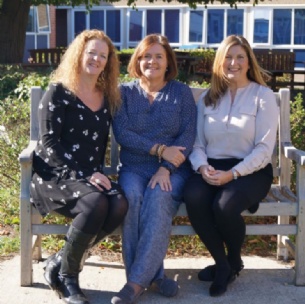 It was lovely to see so many parents and carers at our Wellbeing Village last month, Information/Open Evenings, Form Tutor Review Day last week and at Parent Voice on Monday. Whilst talking to parents, we were aware that it is always valuable to reiterate who you and your daughter/son may contact for queries or concerns, either academic or pastoral.
If students have worries or concerns, their Form Tutor, who they see on a daily basis, are the first point of contact. Students are also aware that they may see their Director of Learning or seek support from our Student Support Officers, Mrs Lalor and Mrs Stevenson, who are experienced in offering support and resolving problems. Please encourage your daughter/son to use these avenues of support and go to the Student Support Hub if they need to. This is a friendly and safe space that is staffed all day so that students always have somewhere to go if they need support. Alternatively, they can put a note (with their name and concern) in the 'Concerns' box, located outside Student Support or the Library Resource Centre, and someone will come and find them.
If you have a concern about your daughter/son, then it is best to talk to their Director of Learning or our Student Support Officers. Please call the school at 01727 853134 or e-mail the appropriate member of staff as outlined below.
If your concern is about your daughter/son's wellbeing, peer issues, organisation or how they are feeling about school, please contact our Student Support Officers.
Mrs Lalor (Years 7-9) - kel@stags.herts.sch.uk
Mrs Stevenson (Years 10-13) - jzs@stags.herts.sch.uk
If you feel that the issue is more serious, is a general academic issue or a matter of discipline, his/her Director of Learning may also be contacted on the school number above. However, they are often teaching or away from their offices, so e-mail may be best.
Ms Hewitt (DOL 7) - artah@stags.herts.sch.uk
Ms Whybrow (DOL 8) - engaw@stags.herts.sch.uk
Miss Rose (DOL 9) - pecre@stags.herts.sch.uk
Mrs Roston (DOL 10) - humnk@stags.herts.sch.uk
Ms T Lambert (DOL 11) - humtl@stags.herts.sch.uk
Mrs E Lambert (DOL Post 16) - elt@stags.herts.sch.uk
If your concern is about a learning need or disability, then please contact our Special Educational Needs Coordinator (SENCO), Mrs Smith - ksmith@stags.herts.sch.uk.
If your concern is about safeguarding or you are the parent/carer of a Looked After or Previously Looked After Child, please contact Ms Thomas, kts@stags.herts.sch.uk - the designated teacher for both areas.
If you have a question or concern relating to a specific subject area, then please do contact the subject teacher or Curriculum Leader by e-mail. A full list of staff is available on our website or alternatively please e-mail admin@stags.herts.sch.uk and include the member of staff in the subject field (for example: 'For the attention of Ms Thomas', or 'For the attention of the Curriculum Leader for Maths'). Students may contact members of staff via e-mail if they have questions, but please be appreciative of the fact that teachers may not answer e-mails during the evening or at weekends. Staff e-mail addresses may be found in the students' school e-mail address book.
We appreciate that sometimes it is difficult to know who to contact about your query/concern. If in doubt, contact your daughter/son's Director of Learning and they will forward your message to the relevant member of staff. If you do not hear back, then please do contact us again, the relevant Head of Key Stage or Ms Thomas, Deputy Head.
Please take a look at the Student Support and Parent sections of our website as it contains a lot of useful information about support at STAGS. In particular, please see our Here For You booklet in the Pastoral Structure and Anti-Bullying sections. We very much want to work in partnership with you to ensure your daughter/son is both happy and successful at STAGS.
Ms Thomas, Deputy Head