STAGS Rugby - Harpenden Tournament​​​​​​​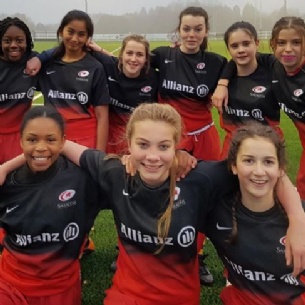 On Thursday 22nd November, the STAGS Rugby Team (Rebecca Adu-Poku, Nia Boty, Anisah Choudhuri, Kacie Day, Isabel Harber, Avani Johal, Gabriela McGlenn, Tia Rees, Lucy Heath and Eve Slater) was lucky enough to play in the Harpenden Tournament, comprising STAGS, Beaumont, Roundwood Teams 1 and 2, Samuel Ryder, Abbotts Hill and Sandringham.
When we arrived, we started to do some practice with Craig before our games so we were warmed up and ready to go. We did exceptionally well in the 1st match against Beaumont, winning 4-1, we then had 2 games off, when we weren't playing, so we decided to go and warm up and rehydrate before the next game started. In the second match against Samuel Ryder, we tried our best and tried to face off the girls and the tackles (and the cold weather) but unfortunately lost 3-2. We then left the best till last, playing Roundwood and won 4-1! This put us into the bronze medal match against Sandringham which we won, this meant that we came 3rd place overall.
A huge thanks from our team goes to Craig, Mrs Pennock and Mrs Roston, who arrived before our last match, for being there for us, cheering us on and supporting us the whole way. Well done ladies - another great turnout, especially in the freezing cold weather!
Anisah Choudhuri, 10S