Robot Rumble Team make it to the Final!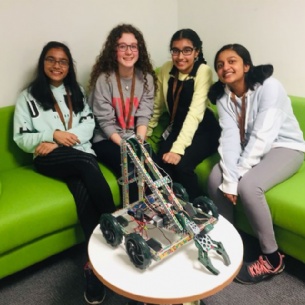 STAGS Students make it to the final of Robot Rumble!
A team of 4 of us were part of the STAGS Robot Rumble team, run by MBDA. We had lots of preparation to do before each of the competition events, but we had mentors from MBDA to help and guide us in the right direction.
We had to build the robot from scratch using VEX Robotics Equipment, thinking about the structure of the robot and how the motors and gears worked together to make it efficient. It was really fun because everyone worked together and as a team we went through the problems together. Although we needed help here and there, the whole journey of making the robot and doing the coding to control the movements of the robot was unforgettable. Each tiny improvement that we could make was brilliant and after the Final competition, letting go of it was really hard as we had become attached to our robot.
The competition atmosphere on the Final day event was amazing - it really reminded us of what the term Robot Wars meant! The teams went to 'war' on the pitches which were covered with balls, cones, flags and podiums. We earned points by flipping the cones, hitting flags and being the last on the central podium with our robot.
After the qualifiers, we were paired with another school to go into the knockouts stage. We came 6th place overall! We did however win the award for 'Best Teamwork' and got a trophy for this.
Overall Robot Rumble was an experience we will never forget, we had so much fun and we wish we could do it all again!
Leah Salhan, Year 9