Costa Children's Book Award and Carnegie Nominated author, Candy Gourlay Visits STAGS!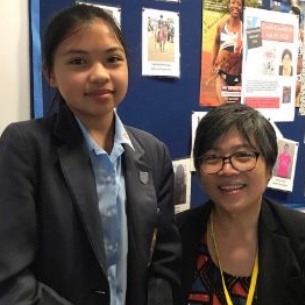 Please enter an introduction for your news story here.
On Wednesday, 27th February we were delighted to welcome Candy Gourlay to STAGS.
Candy gave an exciting and energetic talk in the Sports Hall to years 8 and 9 about growing up in the Philippines, how she became a writer and the creation of her latest book 'Bone Talk', which has recently been nominated for the Carnegie Medal.
Over 400 students filled the Sports Hall to see Candy including students from Adeyfield School who we were pleased were able to join us for the event.
Students were able to meet Candy after the talk to have a books signed. Candy really enjoyed her visit to STAGS and later 'tweeted':
Candy Gourlay @candygourlay Feb 27
I'm not gonna lie, when I saw the massive sports hall where I was giving my talk, I had an eek moment. These pictures show how alarmingly huge the audience was. But lo! The mic worked a treat!
@DFB_storyhouse @AuthorsAloudUK @stags_official @StagsLRC