STAGS Alumni Annie Lawrence talks about the Benefits of Apprenticeships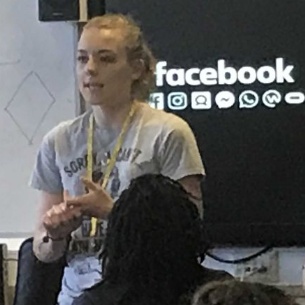 Amazing talk by STAGS Alumni student Annie Lawrence on being an Apprentice
On Monday 11th March over 60 girls attended a wonderfully inspiring talk by Annie Lawrence, an Alumni student who studied A Level Computer Science at STAGS.
Rather than the more traditional route of University/Further Education after her A Levels, Annie chose to do an Apprenticeship in 'Digital Marketing', and she has flourished, being offered a permanent position in Facebook Dublin when her 15 month apprenticeship ends – a fantastic achievement!
A typical working day for Annie consists of a morning of Coding - her current role is pulling data from different platforms to send to clients (anyone that advertises on Facebook, e.g. McDonalds), followed by a free lunch (provided from FB) and Gaming with her Manager. In the afternoon, there may be a client meeting where she would present data and any suggestions as to changes in the clients' Marketing strategy followed by a team meeting, which could be a small department centred one or a larger worldwide one including their offices in Dublin, Stockholm and America.
Annie also has a lot of opportunity to travel and has spent valuable time in the Facebook Headquarters in Silicon Valley. She has a 6 week placement coming up in Seattle where she will get the opportunity to work on 'Oculus Virtual Reality' - exciting opportunities, all in a day's work!
Annie gave her audience lots of tips on how to apply for an Apprenticeship, pointing out that passion and interest in the subject as well as knowledge is what's really important. It's that enthusiasm that sets you apart from someone else!
What was clear from this talk was the opportunities available. She studies as well as getting a good salary, and at just 20 she is on a very exciting career path. Annie loves her work, which in her own words is 'so rewarding as well as lots of fun!'
Annie clearly gets great satisfaction from her job, her enthusiasm was infectious and the whole audience was captivated. It gave everyone food for thought as to options other than the traditional University/Further Education route.
Rachel Berwick, Marketing & Communications Assistant