British Physics Olympiad Winners!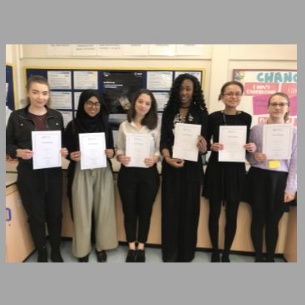 The AS Challenge Competition which is part of the British Physics Olympiad, is an exciting opportunity for students to stretch their lateral thinking skills and apply fundamental Physical principles to novel situations.
This year STAGS entered six Physicists, all winning an award:
Rose Macintyre - Silver
Munthaha Ahmed - Bronze 1
Natalie Douglas - Bronze 1
Joesphine Onerhime - Bronze 1
Sudra Al Sharaa - Commendation
Mila Donnez-Barnard - Commendation
What an outstanding achievement - Well Done to all students that took part.
For more information on what the challenge involved, follow the link: https://www.bpho.org.uk/
Mr Zarrouq - Physics Curriculum Leader