Autism Awareness Week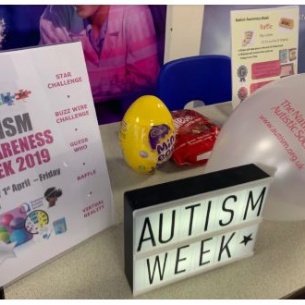 A Week to Raise Awareness
This week we celebrated World Autism Awareness Week. To raise awareness of Autism, a range of activities took place.
Each Form took part in a tricky general knowledge quiz designed by TV star and autistic woman Anne Hegerty. We also had an immersive experience using a virtual reality headset where both students and staff could watch a video of a young autistic boy experiencing sensory overload at a shopping centre.
At lunchtimes all week, a 'Raise Awareness' stall was packed with raffle prizes, a 'Guess Who?' for famous people throughout history with autism and two challenges to help everyone perceive and understand daily life with autism.
All proceeds were donated to The National Autistic Society.
Thank you to staff, students, and parents for support of Autism Awareness.
Miss T Fletcher - Higher Level Teaching Assistant