Social Media Gurus - Stay Safe Online!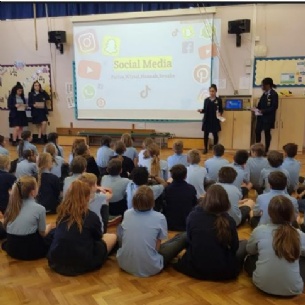 Social Media Gurus Share How to Stay Safe on Line
On Friday 29 March, four Year 9 students who have a STAGS Leadership role as a 'Social Media Guru' were invited to Crabtree Junior School to deliver a workshop to Year 6 students.
Parissa Joseph, Wissal Amrouchi, Brooke Dunne and Hannah Burman delivered a presentation to educate the Year 6 students about how they can be safe online as well as giving the students a deeper understanding of the damage that cyberbullying can do. The presentation was followed with a question and answer session.
Ms Bath (Year 6 Teacher) commented "Wow! We cannot thank your students enough! That was truly superb and really made the message clear."