Year 12 Students Graduate as Gold Level Industrial Cadets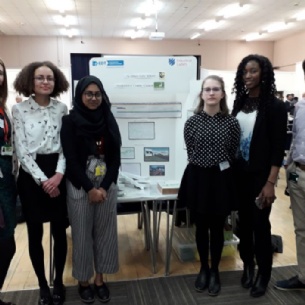 Please enter an introduction for your news story here.
On Friday 26 April, at Hertfordshire University, Munthaha Ahmed, Mila Donnez-Barnard, Natalia Douglas and Josephine Onerhime graduated as Gold Level Industrial Cadets.
The celebration marked the culmination of a six month engineering project, part of the Engineering Education Scheme, which is sponsored by the Engineering Development Trust. The project which aims to provide young people with an in-depth hands on experience in science, engineering and technology. The team worked in partnership with mentor engineers from Hertfordshire County Council Highways to address a project brief aimed at reducing congestion on the A414 North Orbital Road.
During the assessment process, which involved presenting their findings to a team of engineers from industry, the Year 12 students ably acquitted themselves and were commended for their fluent presentation skills and in-depth approach to tackling their project brief.
Here's what the students thought about the experience themselves:
'The experience was very insightful as it mimicked a real-life engineering project, where we could apply what we learn in our classrooms to realistic scenarios, which is an opportunity most don't get until actually entering the workplace' Munthaha Ahmed
'A very interesting project that helped me further understand real world engineering problems in the workplace' Mila Donnez-Barnard
'The Engineering Education Scheme has been invaluable in developing my understanding of the engineering sector and allowing me to experience the challenges involved in real-world projects' Natalia Douglas
'The Engineering Education Scheme has helped me to develop and apply my knowledge of engineering to a real, current situation. It has given me the opportunity to be part of a project where challenges are encountered, embraced and overcome, which for me, is what engineering is all about. The experience has opened my eyes to the breadth of knowledge and skills needed within the engineering sector and has equipped me to seriously pursue a future in the industry' Josephine Onerhime
Mrs J Curl, Science Teacher