Herts Schools Athletics Championships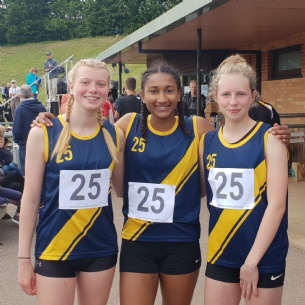 Herts Schools Athletics Championships
On Saturday 8th June in Jarman Park, Hemel Hempstead, a group of students from Year 8, 9 and 10 competed in the Herts Schools Athletics Championships.
Congratulations to all girls involved, a truly wonderful representation of the school on a County platform. Your hard work and dedication really shows in these fantastic performances, we couldn't be prouder of you!
U15 Girls
Orla Foley, 300m -5th
Annabel Hedge, 800m - 3rd
Antonia Jubb, 1500m - 3rd
U17 Girls
Rebecca Adu-Poku, 200m - 3rd
Emma Afari, 100m - 2nd
Emma Afari, Triple Jump - 5th
Eve Slater, Long Jump - 3rd
A huge thank you to Mrs Jubb for assisting on the day enabling the girls to compete.