STAGS Teacher Places 3rd in European Sailing Championships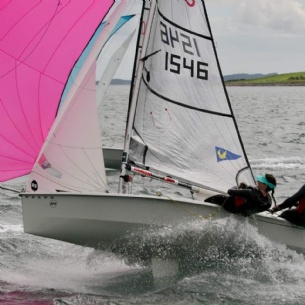 The 2019 RS200 European Cup was held at Strangford Lough, 30 minutes outside of Belfast. 26 teams from 4 countries made the journey over for the 4 day championship. Day 1 the boats and competitors were all geared up and then... nothing. Not a breath of wind on the first day so a decision to postpone was made. Day 2 the sun rose on light and changeable wind and after four races we were lying in 5th overall.
Big Sunday brought a solid 25 mph breeze, gusting 30 mph and more. Only faintly terrifying at times - it felt fast downwind, and looks just as fast in the photos! Most of the fleet managed to get the boats airborne, and those who stayed upright, scored well. The first two teams had cemented their lead at the top but the final podium position was where the action was, with myself and John in 3rd, closely followed by a Scottish team, and an English combo likely to still be in contention.
Ultimately it all came down to the final race. Pre-start, we and our Scottish rivals circled each other and did our best to take each other out of the running during the race but both boats kept popping out at the front of the fleet! We, the Scots and the English combo finished within touching distance of each other, with job done for myself and John who took the final podium spot having secured our victory after a hard fought battle!