Year 9 Trip to the University of Hertfordshire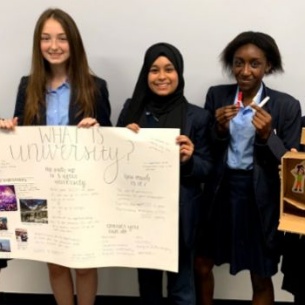 On Friday 14 June, 26 Year 9 students visited the University of Hertfordshire for a Pathfinder Day, to get an insight into University life and all related aspects. The students were placed into five teams for the duration of the day, which saw them compete in various activities including quizzes and games, culminating in them doing a presentation on their findings from the day.
The whole experience was incredibly informative for all involved and left many students returning home excited to tell their parents all about University and what it offers. Jorja Crampton said: 'I really liked how we did activities that included important statistics about the University and the expenses of studying and dorms. I also liked how they had students as ambassadors, because you were able to ask them questions about the University and what it is like.'
All 26 students represented the school exceptionally well and should be proud of themselves. Congratulations must go to the following students for winning the competition for the day; Daniela Damiani, Olivia May, Thabia Chowdhury, Mercy Olayanju and Wissal El Amrouchi.
Miss C Rose, Year 9 Director of Learning