First Ever Year 8 Spelling Bee!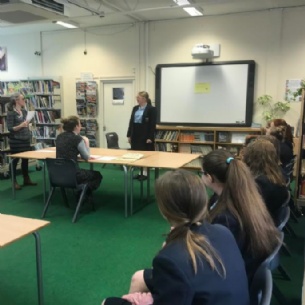 Some of our amazing Year 8 spellers took part in our first Year 8 Spelling Bee last Thursday. From each form, the winners of an initial in-class spelling quiz went head to head for the final oral knockout session.
They did incredibly well, deftly handling some very tricky spellings. In fact, they out-spelled the list of 100 tricky spellings they had been given to learn, forcing me to go rogue and throw words at them that they hadn't even practised.
However, there could only be one winner and Camille Edomben's (8A) orthographic prowess ultimately triumphed, with Samantha Farnsworth (8J) in 2nd place and Alice Maguire (8C) coming third. Well done to everyone who took part, you all did brilliantly!
Spelling Bee participants: Esme Cook (8A), Camille Edomben (8A), Ellie Heeps (8B), Alexandra Russell (8B), Pippa Wilton (8B), Milaya Pick (8C), Chloe Wood (8C), Alice Maguire (8C), Beatriz Curley (8F), Sadiya Hussain (8F), Aria Kanani (8F), Emily Clark (8H), Heather Hewis (8H), Samantha Farnsworth (8J), Erin Marshall (8S) and Abbi Tomkins (8S).
Ms Ritchie, English Teacher