STAGS Ski Squad compete at Welwyn Dry Ski Slope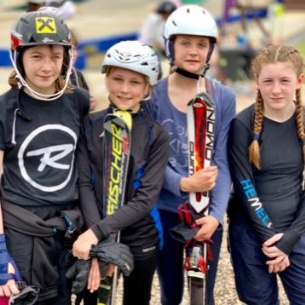 Sunday 23rd June saw STAGS send two ski teams to race in the London Schools Ski Race at Welwyn Dry Ski Slope. Just over 70 girls, from Years 7-13, competed from schools in and around the London area.
The girls skied to the best of their ability and our Senior Team made up of Katie Barder (11J), Saoirse Bettison (10C), Nia Boty (10B) and Olivia Coombs (11H) took home a Bronze Medal for their efforts. Our Junior Team of Minouk Gould (7H), Madelijn Gould (9H), Aimee Smith (7B) and Jemma Smith (7J) faced some tough competition and came a respectable 7th place.
They should all be very proud of themselves, a great team effort!

We're always recruiting to the Ski Squad, training is on Friday evenings and our next races are in September. For more information, please email me at lisajbarder@gmail.com
Lisa Barder, Parent