GCSE and A Level Successes at STAGS 2019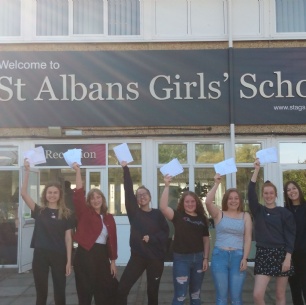 Congratulations to all of our students on their fantastic achievements this year in the public examinations. The results at both GCSE and A Level have been superb, not least against a national agenda of challenging grade boundaries, well documented in the media. We are absolutely delighted with this year's results. Students in Years 11 and 13 have worked incredibly hard and been rewarded with some truly excellent results this summer.
At A Level a very impressive 31% achieved A* and A grades, 62% achieved A*-B grades and 85% achieved A*-C grades. The average grade across the cohort was 'B' and an A Level performance score against national benchmarks places student progress in the top 10% of the country. There are so many individual successes and achievements for all of the students to be so proud and all are now looking forward to embarking on the next phase at university to numerous exciting courses from Medicine, English Literature, Theatre Studies and Mathematics at a wide variety of prestigious Red Brick universities, including Cambridge, Bristol, Exeter and York amongst others, to employment and apprenticeships.
At GCSE, the outcomes of our students are once again superb. The Attainment 8 score, based on the best 8 grades at GCSE was 62.2 with 96.9% of students achieving a standard pass of grade 4 or above in English and 87% achieved grade 4 or above in maths. The 'Basics' measurement of performance is the number of students who achieved a grade 5 or above in English and Maths, which for our students is a very impressive 72%. Over 70% of students achieved the EBacc qualifications, which are based on English, Maths, Science, a Language and Humanity subject. Over 10% of students achieved grade 9 in English and 7% in maths which is against a national average of about 2%.
We are still awaiting remarks for a number of results which appear very near to a grade boundary or are spurious in relation to expectation.
This is a fantastic achievement and enables a firm foundation for wonderful future opportunities with dreams and learning aspirations being achieved – these results open so many pathways for our girls and we wish everyone success in their future endeavours.
Enormous praise go to our wonderful STAGS students for their fabulous achievements; witnessing them opening their results and seeing the fruits of their labours on results days made the months of revision all worthwhile and was a joy to behold. However, this would not have been possible without the fantastic support of parents and teachers and all involved in supporting our STAGS community, who provided continuous cajoling, nurturing, guidance and at times a good stiff talking to! The unfailing support has been rewarded and to everyone I offer a huge WELL DONE!!
We welcome all students back for the start of the new academic year on Tuesday 3rd September at 8.35am. A particular warm welcome to our new Year 7 students and those joining us in the sixth form. The locations of form rooms were shared in the last STAGSlink of July, however, all classrooms have been relabelled across the school to coincide with the subject which is taught in that particular location. A map of the locations of form rooms and classrooms will be sent to you next week. The new 'Parks' classroom block has enabled a complete review of all subject locations and so we have been able to re-allocate subjects together rather than being dispersed across the school, as was previously the case. A reminder that all Year 7 students should go directly to the Main Hall. As usual breakfast will be available in the restaurant from 8.00am.
With all good wishes
Margaret Chapman