Charity London to Paris Bike Ride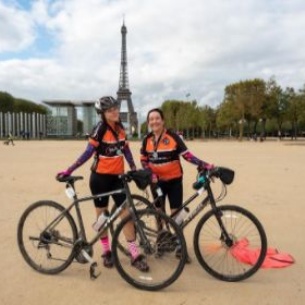 At the end of September, along with my mum Lisa, I completed a bike ride from London to Paris for the charity Myeloma UK, which supports patients with Myeloma, an incurable blood cancer. Over the 4 days, I met so many inspirational people, from members of pharmaceutical companies to nurses and doctors, as well as, patients who were on medication and still able to complete the ride. I can safely say, that I have never met a more supportive group of people in my life, the camaraderie I witnessed was unbelievable and I'm still in awe of every single person there. The 350 miles would not have been possible without the friendships I formed, the shouts of encouragement I heard climbing up hills and the constant laughs at every break.
After this experience, I now have a completely new outlook on life, I have learnt the true meaning of resilience, I have realised the power that a few small words of motivation can have and I have understood how far 500 kilometres actually is! After arriving in Paris, although very emotional, I truly felt a feeling of accomplishment. After cycling up the Champs-Elysees, round the Arc de Triomphe and seeing the Eiffel Tower, I was filled with a sense of achievement I'd never experienced before. As well as this, as I was the youngest person on the ride and I won the white jersey on our last night in Paris; I received a standing ovation from everyone in the room, it was a truly unforgettable moment.
Overall, although this ride was 4 of the toughest days of my life, for every bruise I got after falling off the bike and every tear I shed getting up the hills, I gained an experience I'll never forget and friendships I'll never lose, all while promoting such a great cause. I am still looking for sponsors, so any donations are greatly appreciated.
Please visit my just giving page: https://www.justgiving.com/fundraising/gigi-and-lisa-williams
Genevieve Williams, 13.5