KS5 English & Drama Theatre Trip to 'The Crucible'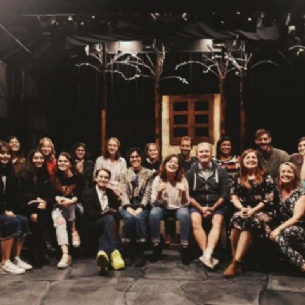 Please enter an introduction for your news story here.
On Saturday 5 Oct, STAGS English and Drama KS5 students attended a production of 'The Crucible', at the Barn Theatre in Welwyn Garden City. A renovated 17th century barn, houses a modern auditorium in which the production took place. Students and teachers alike, took their seats as the lights dimmed and candle light flickered on the darkened stage. It was then that the atmospheric drama began - and sinking back into the red velvet seating, we became utterly immersed by Miller's all-encompassing drama.
A fictionalised narrative of the 1962 Salem witch trails in Massachusetts, the drama charts the story of multiple false accusations, where innocent villagers are found guilty of witchcraft, due to a group of 'hysterical' young women. Miller wrote the play as an allegory for McCarthyism: the United States government having persecuted people accused of being Communists in the 1950s.
As an English student myself, I found it incredibly useful watching such an influential piece of literature come alive on stage, as Miller had intended, rather than simply reading the drama.
I felt as though I could truly engage with the characters and understand further the key themes, such as: integrity, mass hysteria and the questioning of authority. I was able to draw parallels with other American Literature of the era we have studied; in that sense the trip was invaluable.
After the performance, myself and other students were given the opportunity to speak with the cast in a lively Q&A session. Questions were answered insightfully and students jotted down the wise words of the team, who had obviously developed an intimate understanding of the play, after having performed it for the tenth time that very evening! Discussing at great length the relevance of the play to a modern-day audience, 'fake news', political corruption and fundamentalism were all considered significant topics of conversation (despite the archaic setting). I left the theatre having developed a greater understanding of wider American drama, but more than this, feeling excited and satisfied by the intense and captivating play.
Sophia Laycock, 13.4