Year 11& 13 Geography Trip to Italy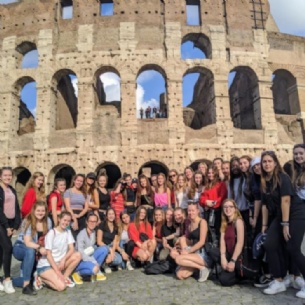 Over the half term, thirty-nine students & four teachers attended the Geography trip to Italy. Across five days, we visited areas along the Bay of Naples, Capri and Rome. Thankfully, the weather was wonderful!

Our first visit was to Pompeii, where we admired the ruins left behind by the volcanic eruption of Vesuvius in 79AD. It was like going back in time as the volcanic ash has kept buildings and artefacts in fair condition. Monday morning, we explored the town of Herculaneum, similar to Pompeii, but students were moved by seeing the perfectly preserved skeletons of people who were trying to evacuate the town during the eruption.

Next, after all having delicious pizzas for lunch, we climbed Mount Vesuvius to admire the volcanic crater and views of the Bay of Naples. At the top, we were able to see fumerols emitting steam and small patches of yellow highlighting the sulfur dioxide present. From here, students were able to see the scale of impacts across the Bay of Naples and appreciate how the current three million inhabitants of Naples are still threatened by potential future volcanic eruptions.

On the last day, we travelled to Rome, where we toured around the Roman Colosseum soaking up the atmosphere, and history students were in awe of its size and significance in the Roman era.

It was a fantastic trip! Students were commended by both hotel staff and teachers for their impeccable behaviour and politeness; proudly representing STAGS. Well done ladies!

Mrs J Isolda, Curriculum Leader of Geography
'You got to see loads of different parts of Italy. The hotel was lovely and made us feel special! I loved seeing and climbing Vesuvius, seeing the crater at the top was really good, I didn't realise it would be so deep! Herculaneum was excellent because I didn't realise the pyroclastic flow would cover so much of a city, and how much it would extend the land, so the coast was further from the city after the eruption.'
Charlotte Coogan
'I liked going up Mount Vesuvius, the views were amazing. Pompeii was interesting because you got to see the plaster cast bodies. The food was good too!'
Millie Walker
'I loved it! It was a really fun trip. There was lots of freedom for us to see the sites and we explored so much in such a short space of time. Going on the boat to Capri was exciting. Vesuvius was definitely my favourite!'
Martha Wilkinson