Pride+ St Albans City Football Club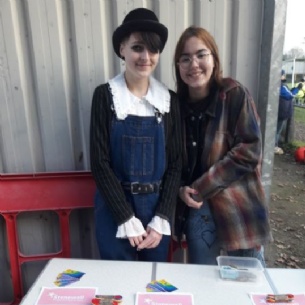 On Saturday, the Pride+ Club went to St Albans City Football Club to sell rainbow laces in order to raise awareness of inclusivity within sports, particularly football. The aim of the campaign is to tackle homophobia & transphobia within sport, and ensure that sport is a safe space for everyone! All proceeds raised will go to the Stonewall Charity. A huge thank you to Mr Seabrook for helping us with this event.
Miss Taylor & Miss Hare, Pride+ Club Leaders

Selling rainbow laces at St Albans Football Club was a really great experience. I've never been to a football match in my life so it was a different scene to what I'm used to but this made it even better as I felt I was spreading awareness in places that aren't usually reached enough by the LGBTQ+ community. Besides, football is all about solidarity so it's important to promote acceptance in that atmosphere. It was also great to be able to represent the school through an issue that I'm passionate about, all while raising money for the Stonewall Charity.
Jae Kent, 12.1