STAGS Talented Musicians Perform in Hertfordshire Schools'Symphony Orchestra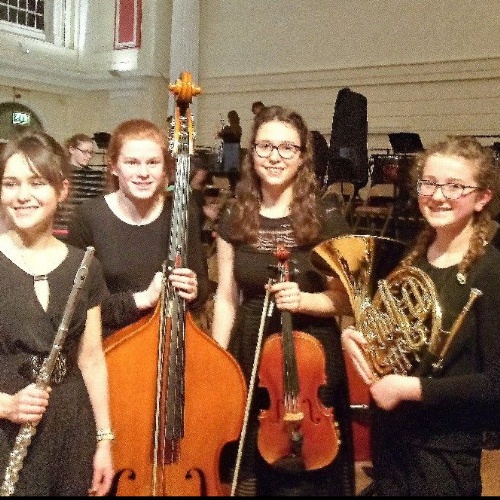 On 23 December 2017, seven STAGS students performed with the Hertfordshire Schools' Symphony Orchestra in a programme which included Tchaikovsky's Nutcracker Suite and William Walton's Richard III Prelude. The demanding repertoire was prepared over just four days of intensive rehearsals held at Haileybury School. Sectional tutors coached each of the departments of the orchestra, drawing out confident performances of these challenging works. The concert was held in Haileybury's Big School Hall, and was attended by friends and family of the more than 80 instrumentalists drawn from schools over the whole of the county. STAGS must be the only school to be represented by so many current and former students: Year 8 students Chloe Harrison and Millie Drury, Alice Drury; Year 10, Tonya & Katya Alban and Hannah Coleman Year 13 and Minnie Elliott former student.
Under their Conductor, Ben Glassberg, the HSSO tackled the demanding programme with style and confidence, and produced an impressive dynamic range. In addition, to the classical repertoire, they performed a piece by a modern composer, entitled 'Hovercraft'. The sustained rhythms and remorselessly surging waves of sound evoked the noise of the hovercrafts of the 1970s. The concert finished with a brilliantly stylish performance of Nigel Hess' A Christmas Overture, which intermingles seven well-known carols and allows each section of the orchestra to shine. All of the students were clearly delighted with their performance; the culmination of their hard work during the final week of term. They are to be congratulated for their part in such a prestigious evening.
The Hertfordshire Schools' Symphony Orchestra is the second county-level orchestra for young people. It is for students aged 13-18 of Grade 7 and above standard, who usually also play in their school and local music centre groups. This orchestra tackles large and smaller scale works and will appear next at the Royal Albert Hall in the Hertfordshire Schools' Gala concert in March.
For more information visit: http://www.hertsmusicservice.org.uk/schools-symphony-orchestra/
Mrs Buckley, MFL Curriculum Leader