Christmas Carol Service & Music Christmas Concert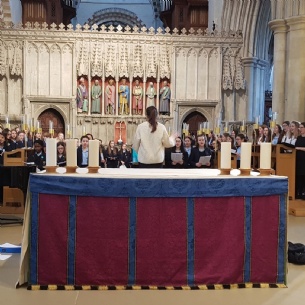 On Friday 13th December, the four different STAGS choirs represented the Music Department beautifully with their singing. As well as leading the congregation in the singing of the carols there were performances from each of the choirs. The Senior Choir performed 'Christmas Lullaby' by John Rutter, the Cantabile Choir performed 'While Shepherds Rocked' and the new Year 7 Choir performed an arrangement of 'Walking in the Air'. The Chamber Choir performed 'Cantique de Jean Racine' - a very difficult piece that they tackled with ease, despite two of their usual group being struck down with flu!
These talented musicians were also on display at Tuesday's Christmas Concert where they performed these pieces in addition to other songs. We had everything from Katy Perry's 'Roar' to 'Flashlight' from Pitch Perfect. The choirs were joined by the Wind Ensemble, Junior Orchestra, Concert Band and Senior Orchestra who performed beautifully to a packed audience of staff, parents and friends with a variety of pieces including: 'The Greatest Showman', 'Pirates of the Caribbean', 'Danse Macabre' and 'Phantom of the Opera' to name a few. It was lovely to see the whole STAGS community on display, as many of our multi-talented teachers from other departments joined in to play in the concert as well as students, showing us all that music is something to be enjoyed for the rest of your life. Well done everyone - a fantastic Christmas Carol Service and Music Concert!
Mrs E Warren, Curriculum Leader of Music