Year 7 Students Help Judge St Albans Book Awards!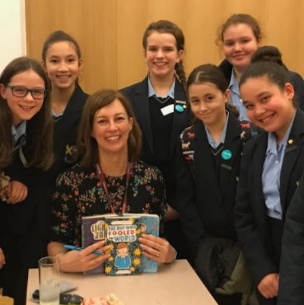 On Thursday 12th December, a group of STAGS students from Year 7 joined pupils from other area schools at St Columba's College, to help judge the St Albans School Book Award.
Now in its third year, the event involved intense discussion of the three shortlisted books, with a secret ballot to select the winner. The three nominated books were:
'Boy Underwater' 'The Children of Castle Rock' 'No Fixed Address'
by Adam Baron by Natasha Farrant by Susin Nielsen
The students not only took part in the selection process, but also participated in a quiz and, most exciting of all, attended a talk given by last year's winning author Lisa Thompson.
After much anticipation, Lisa Thompson announced 'No Fixed Address' as the recipient of this years St Albans Schools Book Award. It was an overwhelmingly popular winner judging by the crowd's applause.
Well done to everyone who took part for choosing such a great book, and thank you to St Columba's College for hosting such a wonderful event!
Year 7 student Millie Bowen gives her impressions of the day:
'We got onto the minibus, all excited for the day ahead. After a short journey, we arrived at St Columba's College. We went inside and we were given name tags, with our group number and school on it. Once we were in our groups, we started off with a short discussion about all the books. After that, there was a very competitive quiz on all of the books, the winners receiving a book and some chocolates! It was all very fun, but we had to stop for a quick break and for some lunch. Once lunch was over, we had a short walk to the chapel, where we had a chance to meet Lisa Thompson, who was the winner of last year's Award. She gave a speech about how she became an author, then did a book signing. Overall it was a really exciting day!"
Ms Darbyshire, Library Resource Centre