STAGS Year 9 Engineers Report on Their Journey to Success with 'Bob'The Robot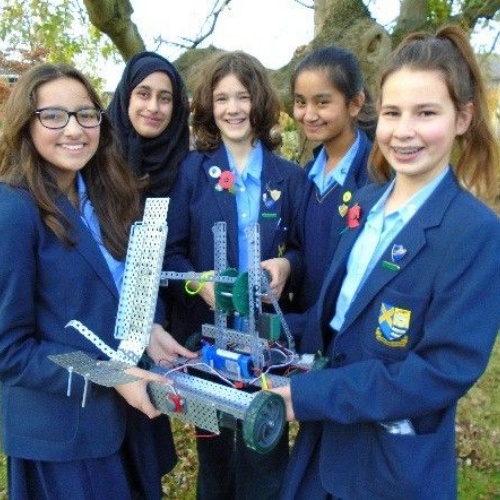 On Saturday 20th January, five budding Engineers from STAGS attended the Robot Rumble finals (sponsored by MBDA) at Hertfordshire University with their robot 'B.O.B'. The five Year 9 students in attendance were: Eschal Najmi, Taibah Khan, Amelia Kinghorn, Anisah Choudhuri and Emma Langford. Eschal gives us a report of the eventful day:
Once there, we spent around half an hour prepping B.O.B (Best Of Bots) and practicing our presentation. After we had presented our Powerpoint to a panel of judges, we went on to continue to perfect B.O.B un-til the qualification rounds begun.
There were six rounds overall and we won five of them and only lost one. During each round, our robot had to pick up cones and stack them. We were paired with another school and were pitted against another two schools. For the first two rounds we were paired with St Christopher's. After the qualification matches, we were in 3rd place, with St Christopher's coming in 2nd and John Warner in 1st.
Prior to our lunch break, we were told that we needed to pick an alliance. An alliance is when you are paired with another team for the rest of the competition. So, during the lunch break, we looked at other schools' robots and decided who to ask for an alliance. We decided to ask St Christopher's who were in second place and they agreed. With our newly found alliance, we breezed past the quarter finals and pro-gressed onto the semi-finals where we competed against Nobel and Hertswood. We played three rounds against them, when disaster struck! Unfortunately our robot died in the first round. However, we were informed that we had in fact won the next two and were through to the finals.
Just as we prepared B.O.B for the finals, a shock announcement was made. We were told that there had been a miscalculation and that the other team had won and we were eliminated! Although we were upset by the news, we were pleased to come 4th out of 16 schools.
At the end of the day, when the time came for the awards to be given and I was surprised to discover I (Eschal), had won the award for 'Best Engineer of the Tournament'. I was very happy to accept a beautiful glass trophy and a prize of one week's work experience with MBDA.
Many thanks to all members of the team who represented STAGS and special thanks go to Miss Bowman, Curriculum Leader for ADT, for supporting the team throughout the day. Special thanks also go to sponsors MBDA for giving students from local schools this unique opportunity to design and develop and their engineering skills. http://www.mbda-systems.com/