Year 7 Birdwatch 2020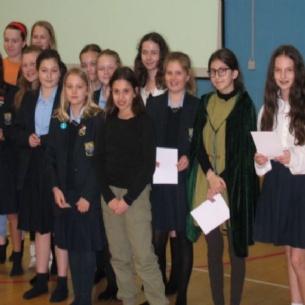 Thursday 5th March saw the Year 7 bird survey awards ceremony. Awards were given to students nominated by subject tutors for work in Maths, English and Art as follow up to January's RSPB Big Garden Birdwatch.
Almost one in three Year 7 students received at least one nomination and won a certificate, five house points and a bird badge. Fourteen students where nominated in two subjects and three students were nominated for all three subjects. These were Ayesha Nazir in 7B, Amy Walker in 7H and Bodza Horvath in 7P. All students with two or three nominations also won a singing cuddly bird!
Many thanks to form and subject teachers and Miss Ryall for help in organising the survey.
'I think the bird survey was really great because it inspired me to watch birds more often because I found it really fun and relaxing. I don't usually see birds in my garden and it surprised me how many birds I saw. I didn't know some of these birds lived in my garden! I loved the bird survey!'
Bodza Horvath, 7P