British Science Week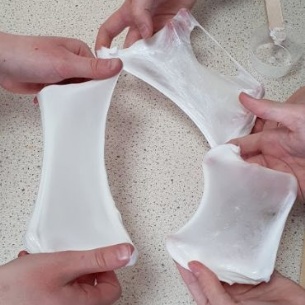 As part of British Science Week, Year 7s slimed their way into lunchtime on Wednesday.
In addition, Year 9s extracted DNA from strawberries!
Here is Klaudia Hamman's report on how it is done. You could also try this at home (ice cold ethanol can be replaced by a strong sprit!)
We first removed the strawberry tops, put the strawberries in a zip lock bag, added 100ml of water and squished it up until it turned into a paste. Then we added drops of washing up liquid, a pinch of salt and mixed it all together. Once we did this, we poured the mixture into a filter paper (kitchen roll would also work for this) and left it to filter. Afterwards, we poured the filtrate into a shot glass and gently added an equal amount of ice cold ethanol and waited five minutes. We could then see stands of DNA as shown in the photographs.
Dr K Lawlor, Science Teacher