STAGS Equestian Team compete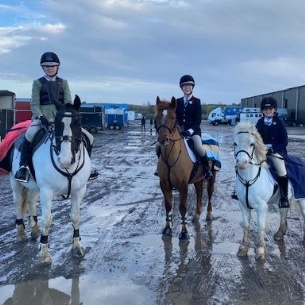 STAGS Equestrian Team compete at Bury Farm Equestrian Centre
STAGS Equestrian Team competed at Bury Farm Equestrian Centre in a School's jumping competition on 20th December. Whilst the whole team could not be together, individual classes could watch each other.

Georgina Lithgow (Year 9) riding Thomas managed a great clear round in her first class, alongside new member Megan Johnson (Year 7) and her horse Oreo jumped in second classes but unfortunately they were unable to be joined by Dorothy Franklin on the day who was in self isolation, meaning their team were unable to be placed in the competition.

Florence Milne (Year 8) on Georgie where joined by Heather Hewis (Year 9) on Brandy and Aoife O'Sullivan (Year 7) on Monopoly to successfully jump three great rounds at 70cm and were placed third overall in the school teams. This was a great achievement as in this class there were 10 teams, and over 50 competitors.

Heather and Holly Hudgell (Year 9) on Daly's Black went on to jump in the larger individual classes. Both Heather and Holly with beautiful jumping in the 80cm had clear rounds, Holly was a bit faster and was placed individually at seventh place in a group of 45 pupils.

Holly jumped another great round on a 90cm course of very technical jumps, and was just out of the rosettes having an unfortunate pole down.

STAGS currently have 12 members of the Equestrian Team. If you ride competitively on your own horse, please contact Abigail Johnson 9B or Team Captain Jessica Allen (Year 12) about joining the team.