An evening with Tim Peake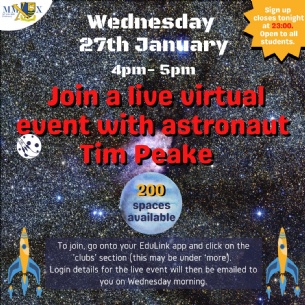 STAGS students were treated to an evening with astronaut Tim Peake who held an inspirational talk on Lockdown on Wednesday 27th January.
Tim, the first British astronaut to walk in space, was joined by special guests from the mental health charity, Mind, to discuss the emotional impact of life in outer space and re-entering society. There was also a Q&A portion in which students were able to submit a question to Tim to answer.
A snippet of the evening can be found here