Talented Sisters win Bronze Medals in Prestigious Scottish Judo Championship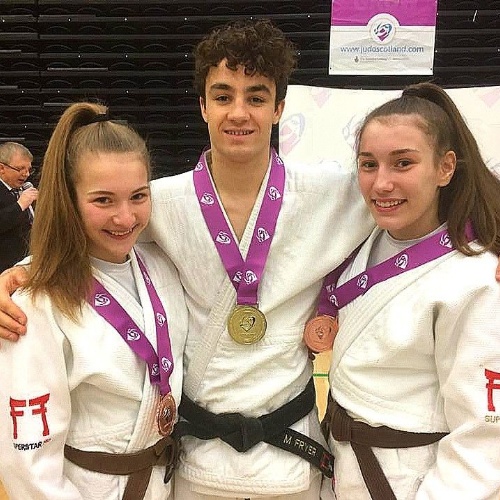 Congratulations to talented sisters Emily (Year 12) and Hannah Niven (Year 10) who both won bronze medals in at the U21 Scottish Junior Open Judo Championships on 20th January. The girls were selected from the Rush Judo club squad alongside team mate Michael Fryer to compete in the first competitive match of the year. The event was held at the biggest arena in the UK, Emirates Arena in Glasgow and was attended by over 300 judo competitors (known as 'Judoka'). On the evening of Friday 19th January, all squad members were required to 'weigh in' to check there were placed in the correct weight category before the competition could begin.
On Saturday 20th, both girls managed to win bronze medals in their respective weight groups, Hannah (u48kg) beat the number one ranked girls from both Scotland and Northern Ireland. She said 'I really didn't think I would win because I was playing against opponents in a higher class than me and I was also the youngest in my group' .
Emily (u57kg) also did incredibly well and went on to beat the current GB U18 National gold and silver medallists. After hearing the results, she commented 'I went to the event for the experience and didn't expect to win a fight, so I was very surprised to come back with a medal'.
Following the competition, Hannah and Emily both took part in the judo camp which was held on the morning of 21st January, before flying back home. Their club coach Laurie Rush said: "We are so proud of the weekend's performances – to win medals in such a prestigious event is a massive achievement. ''
Well done ladies, STAGS wish you every continued success in the future.