The Hertfordshire SACRE HMD Commemoration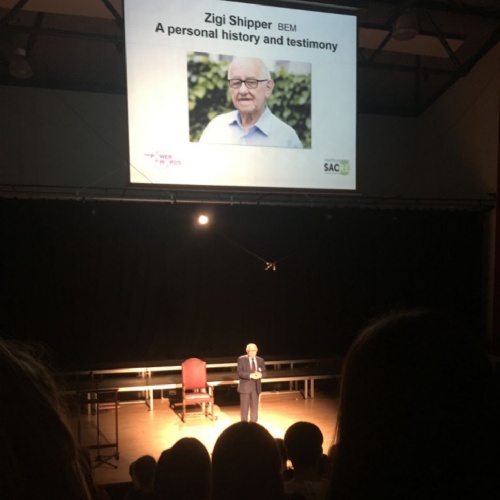 Pupils from Year 12 were privileged to join with other Hertfordshire schools and members of the public to commemorate Holocaust Memorial Day on Wednesday 24th January 2018 at Dame Alice Owen's School in Potters Bar.
The ceremony contained moving readings, music and a unique opportunity to hear the personal testimony of a Holocaust survivor, Zigi Shipper, who lived in a Ghetto from 1940 to 1944. He was then moved to Auschwitz-Birkenau via cattle trucks before being sent to Stutthof concentration camp near Danzig. Here, Zigi volunteered to work at a railway yard, where he was able to get more food. Unfortunately, the approaching Soviet forces meant that Zigi and the rest of his group were sent on a Death March, arriving in the German naval town of Neustadt. Luckily, a well timed British air strike enabled Zigi and his friends to be liberated on 3rd May 1945. His emotional story was accompanied with a few drama performances from students at Rickmansworth School and Dame Alice Owen's to illustrate stories of other Holocaust survivors and victims.
The theme of the memorial was 'The Power of Words' which encouraged us to consider the ways in which we can choose how to behave. To ensure that we are not bystanders to hate crime and prejudice so that the future is better and safer.
Lucy Hawker, 12.3