Victorious Year 9 Students Win MBDA Robotics Competition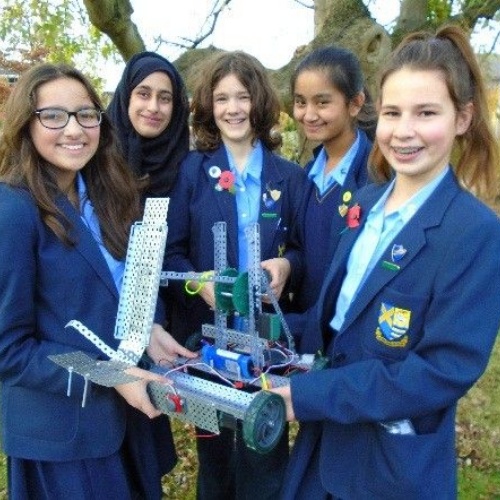 Congratulations to Year 9 students Eschel Najmi, Amelia Kinghorn, Taibah Khan, Anish Choudhuri, Emma Langford who recently won the Robotics tournament last week. Pupils Eschel and Emma give us details of their experience:

On Friday 10th November, the STAGS Robot Rumble Team travelled to MBDA Stevenage. There we competed against fifteen other schools with our robot, B.O.B. The competition was in four stages, our presentation, followed by the button, the trilympic and the autonomous challenge

On arrival we had to do a presentation in front of a panel of judges. We were questioned by them in order to help them understand our robot design. Next, we had to prepare for the button challenge. This challenge involved two rows of buttons on a wall and we had to get B.O.B to press the buttons. This presented us with some difficulties in the first round as we had not altered the claw to enable it to press the buttons. However, we were not worried as we had two more attempts and we knew the higher score would be submitted over-all.

After the button challenge, we had just five minutes to prepare for the trilympic challenge, in which we had to make B.O.B dribble a ball through some cones without touching, shoot a ball into a goal and then get as many balls over an 18" wall as possible!

Finally, we had to complete an autonomous challenge where we had to get B.O.B to travel through a maze as fast as possible without touching the joystick. We didn't travel very far in the first round but after we altered our programming we managed to complete the maze in 1.16 minutes. Then, we reprogrammed B.O.B again and completed the maze in an amazing 49 seconds! We were excited to find this was the second lowest time of the day and this earned us many points.

After all these challenges, our scores were added up to give STAGS the highest score and we were so happy to come in first place. The John Warner school came in second place and Marriot school came in third. After a very tiring but enjoyable day, we all victoriously travelled back to school.