STAGS Annual Ski Trip to Austria on Friday 30 March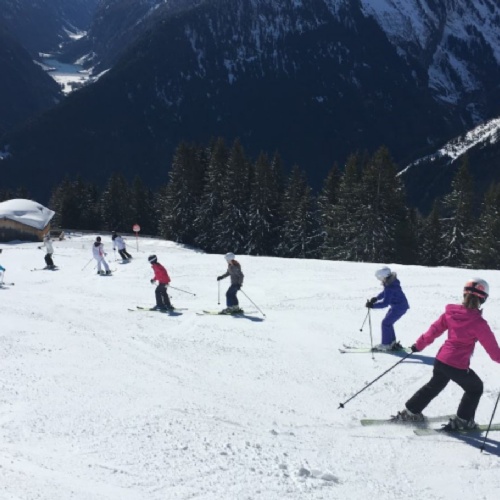 Over Easter, we had our Annual Ski Trip to Austria. On Friday 30th March, 47 students and 5 members of staff set off to Zillertal for the opportunity to experience Austrian culture, learn and improve their skiing ability and further develop interpersonal skills and maturity whilst spending the week away from home.
Throughout the week, students completed six days of skiing in beautiful weather in three different ski areas: Zell am Ziller; Kaltenbach; Hochfugen; all providing various challenges to the wide range in ability for the groups. With 5 ski groups, Ski Astons were able to cater for all abilities and many students rapidly progressed and were moved to more challenging groups. Whilst the beginners mastered the art of falling over safely, the advanced skied from resort to resort taking on challenging pistes.
The tuition Ski Astons provide is outstanding and not only results in improved skiing but also sees students enjoy themselves in a foreign environment. Emma Whiteford said 'I went into the ski trip not knowing how to put ski boots on, one week later I'm skiing down steep mountains! The instructors were super helpful and took care of us all. The trip was amazing and if I could, I would do it again!' The busy schedule kept the group occupied for the whole week and saw students go swimming, bowling and tobogganing, compete in a quiz and at a Tyrolean evening against other schools and enjoy a disco on the final evening. Simran Patel said 'The whole trip was fantastic, one highlight in particular was the disco with two other schools also on tour. It was a brilliant opportunity to socialise with people outside our group and to celebrate our achievements from the week.'
It is always a pleasure to take such wonderful students on the ski trip, to see them learn new skills and flourish socially in such a beautiful environment is a real privilege for us as staff. The Ski Astons company ensured the smooth running of the trip and we send our thanks to them for their excellent organisation. A final comment from Nicole Lang: 'It was amazing and I loved every minute of it. Thank you to the teachers for making it a brilliant experience.' If you're interested, look out for the letter offering the trip for next year!
Miss Rose,
Curriculum Leader Year 8