STAGS Year 10 Students Complete Bronze Duke of Edinburgh Expedition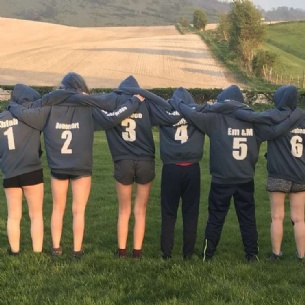 On April the 21st to 22nd, 19 groups set off from Berkhamsted station for a 12 mile walk that they would never forget, a journey to get their Bronze DofE Award. Over 100 Year 10 students successfully completed the expedition section of the Award, despite the major thunder storm. Even though we had to navigate our way through fields of animals, up hills, down canals, through golf courses and lots of forests; we all managed to work together and have lots of fun whilst doing it. It's a great way to feel
responsible for yourself, others and learn key life skills such as map reading, navigation, cooking, tent building, basic medical skills, team bonding and much more.
"It was hard, but I enjoyed it more than I would ever originally believe and made so many funny memories with my friends" - Myla Comiskey, 10H

Despite my group getting lost a few times, we pulled through and managed to get back on track. We had laughs through it all, and faced many interesting challenges, like walking through cow fields and being chased by swarms of insects. You get a whole new perspective on camping and how much fun it can be without your phone. It's an experience I would want to share with anyone, and I hope more STAGS students like me will accept the challenge and go for it.
"It's a great way to get off your phone and smell that country air" - Amy Parsons, 10H
My groups decided to get matching hoodies to help bond our team even more and we used these as part of our project whilst on the expedition, by taking photos at check point in our team hoodies.
As well as the expedition, you have to complete volunteering, skills and physical activities to pass your DofE bronze award. These help with getting experience outside of school, push those personal boundaries, learn new skills and make new friends. - Abby Cowan, 10H

Many thanks to Miss Fotheringham for organising the expedition and, coordinating DofE for the Year 9 students—look out for forthcoming launch information about Bronze DofE in School.