Sustainability Theme Inspires Next Generation of Photographers In Local Competition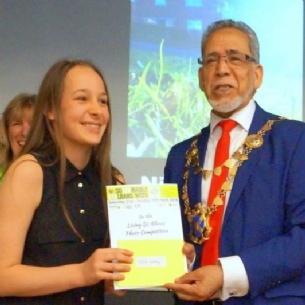 On Sunday 29 April, the Mayor of St Albans Councillor Mohammad Iqbal Zia proudly presented prizes to the winners of the Living in St Albans photography competition at the successful 'Know how' sustainability festival held at Fleetville Junior School on Hatfield Road. Local school children under 18 were asked to compose an inspiring photographic image to reflect what living sustainably in St Albans meant to them along with a short description (25 words max) explaining their work. This was open to anyone at Infant, Junior or Secondary School and prizes included £100 for the winner of each age category. There were also prizes for the best combined entry (e.g. a photo montage) from a school, year, class, or youth group.

Caroline Wilkins, Competition Organiser said "We were impressed by the incredible response to the competition. There were over 100 entries and they illustrated a very wide variety of themes on the subject of sustainability." The difficult task of deciding the winning entrants fell to the expert eyes of the judging panel of Danny Loo, photographer for the Herts Advertiser, Emma Collins, a local lifestyle documentary photographer, and Sandy Adams from Plastic Free St Albans. They focused hard on every entry, searching for quality images that showed evidence of artistic skill and original inspiring ideas. In the sec-ondary school under 18 age band of the competition, Daniela Trhacova from Oaklands College won first prize and received £100, in 2nd place STAGS Year 7 student Nixie Kibbey was awarded £50 and 3rd came Sandring-ham school student Holly Cutler who received a cheque for £25. Nixie said 'I am very excited and happy to have won and I plan to save my prize money'.

Finalists and shortlisted photos will now be displayed during Sustainable St Albans Week on the children's display board in Harpenden library until Saturday 5th May and in the Courtyard Cafe, Hatfield Road, St Albans. At the conclusion of the week, 'Living St Albans Photography Exhibition' will be on show at Verulamium Museum from Monday 30 April to Sunday 3 June.