Magical Children's Author Camilla Chester Makes 'Thirteenth Wish' Come True!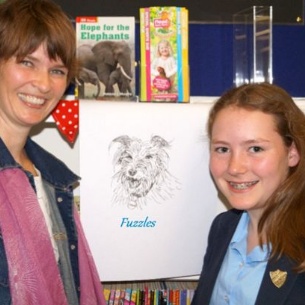 Local author Camilla Chester celebrated the publication and release of her latest book title entitled 'Thirteenth wish' at Harpenden Library, Monday 14th May 2018. Last June a Year 7 student from STAGS, Auj Usman won a National competition to find a quirky name for a cheeky Canine Character, who features throughout the new children's magical mystery adventure. She came up with the catchy name of 'Fuzzles' for the lovable little Jack Russell and this really impressed the judges. As Auj has recently emigrat-ed to Melbourne in Australia her best friend Caitlin Wheeler a Year 8 student from St Albans Girls' school stepped in to accept a signed limited first edition copy of the book on her behalf. She said 'I facetime Auj every day and I am really very happy to collect her prize for her. I am going to post it to her as soon as I can'.

The launch was well attended by cheerful young book worms dressed in party clothes and talented local authors, which included: Helen Moss, Katie Dale, Tracey Mathias Potter, Kate Rosevear, and Marjorie Mallon who are all members of The International Society of Book Writers and Illustrators (SCBWI). In addition creative illustrator Annie Harris was present together with printed copies of the drawings that she created for the Thirteenth Wish. These were given as prizes in the raffle and Annie was on hand to personally sign each one for the excited winners.

STAGS Library Co-ordinator Rebecca Darbyshire was delighted to accept a signed copy of the book for the library, She said 'We will be giving it pride of place in the new books section!'

For more information on Local author Camilla visit:
https://www.camillachester.com/
For extra images of the private book launch please visit:
https://www.facebook.com/STAGS.official