The Great Debate Review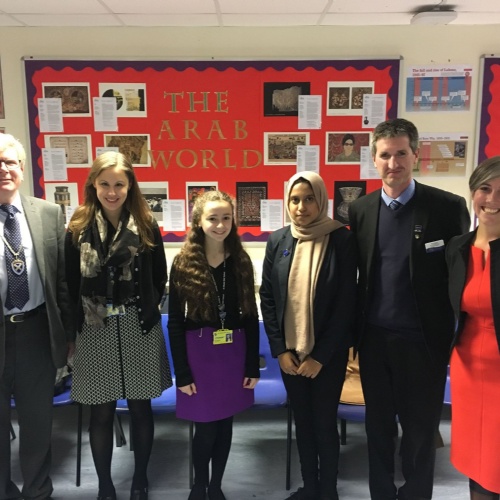 Please enter an introduction for your news story here.
On Wednesday 15th November, I took part in an amazing opportunity for Year 12 historians called the Great Debate. It was a public speaking competition between local schools who would each compete for a chance to advance to the national stage of the competition. I decided to take part as I saw this as a great opportunity to not only develop and gain new skills, but also to help me in the future to go on and study History at University. In a five minute speech, we had to address the question of "was the 1918 Extension of the Franchise the most Significant Moment in British Democratic History?" This is a topic I was initially unfamiliar with, but after some in depth research, I came to realize the great importance of such an event as a British woman, especially at the moment, given that next year is the centenary of votes for women. On the evening of the Great Debate, Miss Cardani and I arrived at Samuel Ryder School ready to participate. The judges were Daisy Cooper, a Liberal Democrat candidate, and the Deputy Mayor of St Albans, who listened to our presentations and then asked each of us questions on our topics. The questions were quite challenging, but equally as thought provoking. It was interesting to see the different ways that each contestant approached the topic and dealt with the questions under the pressure. Although I did not win, I was extremely lucky to have been given this amazing opportunity. I have been able to successfully research and produce a speech in a limited amount of time and deliver it under pressure. Daisy Cooper told me that I was one of the most polished speakers she had heard, which was a massive compliment coming from such an influential figure. This was an amazing experience that I feel privileged to have been a part of and have gained so much from. Here is an extract from my speech: "Overall, I strongly believe that the extension of the British franchise in 1918, whilst indeed significant, was not the MOST significant moment in democratic history, due to the fact that the Magna Carta was innovative, inspiring and ingenious. It proved to be the springboard for a democratic society without which the Fourth Reform, never mind the extension, would have been non-existent." Kezia Blakeley 12.1Please enter some content for your news story here.