Three Schools Meet for Carnegie Medal Event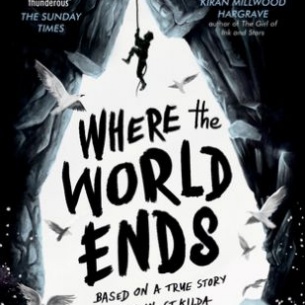 Please enter an introduction for your news story here.
On Monday 18th June, the STAGS Carnegie Shadowing Committee were delighted to welcome students from Beaumont School and Loreto College to watch the live announcement of this year's CILIP Carnegie Medal. Over a buffet lunch, the groups played games relating to each of the nominated books, discussed their favourites, and then watched the ceremony via live weblink.

The students had very definite ideas about which of the books they felt deserved to win and when the winner was announced there was a certain amount of surprise in the room. The winning book, "Where the World Ends" by Geraldine McCaughrean, had not been one of the frontrunners picked by the group of Year 8 students. STAGS student Lola White, who had chosen the book as the one she felt would win, commented "I was a bit surprised my choice of book won because all the people I had spoken to before had said it was boring. However, I had a different opinion because it was my favourite book overall. It [the book] showed what you want is not always what you need."

"Where the World Ends" is set in 1727 on the island of St Kilda. It tells the story of a group of men and boys who are set aside on a remote sea stack to harvest birds for food but who are then stranded when no one comes to collect them. It is the second time that Geraldine McCaughrean has won this most prestigious of children's book awards, and in her acceptance speech she stressed the importance of children's right to language, expression and information, saying "we master words by meeting them, not by avoiding them. The only way to make books - and knowledge - accessible is to give children the necessary words."

Although the result wasn't quite what they were expecting, students from all three schools thoroughly enjoyed the experience and commented that it was 'cool' to meet Carnegie shadowers from the other schools, as it gave them the opportunity to discuss their thoughts and ideas on each of the nominated books.

Ms Darbyshire, LRC Coordinator

Additional photos of the event are available on our Facebook News Feed: https://www.facebook.com/STAGS.official/