Careers, Employability & Enterprise Education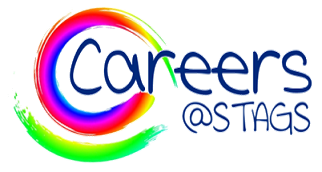 During the Seven Year Learning Journey here at St Albans Girls' School, we are preparing students for their future in modern Britain, as resilient citizens that are able to achieve their own personal goals, while having the skills to adapt to the changing demands of the economy.
The Careers Lead at STAGS is Miss Ellen McHugh, Assistant Head Teacher.
Ellen has a Level 6 Postgraduate Qualification from Cambridge University in the Leadership of Careers Education. To contact her about Careers Education at STAGS, please email careers@stags.herts.sch.uk or call 01727 853134
STAGS is currently working towards the completion of the Investor in Careers Award
Careers and Enterprise Events for the Academic Year 2019-2020:
Year 11 Morrisby Tests (optional activity) Monday 14 October 2019
Year 7 Enterprise Day, Tuesday 1 October and Wednesday 2 October- with Lepra
Year 11 CV Writing Workshop, Tuesday 15 October 2019
Apprenticeships Information Evening for Parents 7-8pm, Monday 21 October 2019
STAGS Careers Fair, Thursday 14 November 2019 5pm-7.30pm
Year 11 Big Interview Day, Tuesday 26 January 2020
Year 8 Inspiring Women Networking Morning, Friday 6 March 2020
Year 9 Learn to Earn Day with Young Enterprise, Tuesday 3 March 2020
Year 12 Higher Education Days, Wednesday 17- Thursday 18 June 2020
Year 12 UCAS Conference, Friday 19 June 2020
Year 7 Work Shadowing Day, Thursday 9 July 2020
Year 10 Employability Skills Day with Young Enterprise, Friday 4 July 2020
Year 10 Work Experience Week, 6-10 July 2020
Year 12 Professional Placement Week, 6-10 July 2020
Each year we offer a careers fair that students from all year groups and their families are invited to attend. The careers fair is also open to students across our Sixth Form Consortium Schools.
If you would like to assist with a careers event or to share your own career journey with our students please contact us by emailing careers@stags.herts.sch.uk.
How is Careers, Employability and Enterprise Education taught at St Albans Girls' School?
St Albans Girls' School has fully implemented the eight Gatsby Benchmarks through the specific lessons within the PSHCE and Progression Programme lessons as well as wider curriculum learning opportunities.
The eight Gatsby benchmarks of Good Career Guidance:
A stable careers programme
Learning from career and labour market information
Addressing the needs of each pupil
Linking curriculum learning to careers
Encounters with employers and employees
Experiences of workplaces
Encounters with further and higher education
Personal guidance
We work closely with YC Hertfordshire (formally known as Youth Connexions), to provide 1:1 careers guidance interviews for students in Years 9-13 with a Level 6 Qualified Careers Guidance Advisor. This support is in addition to meetings with Form Tutors, Directors of Learning and members of the Senior Leadership Team that students will have when making a careers progression decision.
To enhance our provision we also work closely with the Careers and Enterprise Company and an Enterprise Advisor who review the Careers, Employability and Enterprise provision provided to ensure we are fully meeting the Gatsby Benchmarks.
We review the content of our programme annually.
Please use the links below for more information about Careers Education
Our Current Programme for Parents, Students, Teachers and Employers
Useful Websites for Parents/Carers to Support Career Decisions
Local Labour Market Information investigation tool
Enterprise Education Opportunities at St Albans Girls' School
Each year group has the opportunity to take part in enrichment opportunities to widen their enterprise skills.
The whole school takes part in the annual Winter Fair to raise funds for local charities and the STAGS PTA
Year 7 students can take part in the Young Enterprise Tenner programme in the Spring Term
Year 8 students can take part in the Be Bold for Brave Girls with the National Schools Partnership in the Summer Term
All Year 9 students take part in the First Give programme
Students in Years 10 and 11 take on the leadership roles in the St Albans Rotary Interact Club
Year 12 students can take part in the Young Enterprise Company Programme
In addition to the formal enterprise challenges, students can work as a form group to run stalls to raise funds for their House Charity throughout the school year.
The Hertfordshire Local Enterprise Partnership and the Careers and Enterprise Company have created a careers portal all about careers and other opportunities within Hertfordshire.
Aimed at ages 13 - retirement the website is full of information for any students (or adults) who are looking into local employers that they can connect with, or work for.

View the website here