Examination Results
2022 GCSE and A Level Results
Congratulations to all of our students on their fantastic achievements this year in the public examinations. The results at both GCSE and A Level have been superb, not least against the challenges of the last two years. We are all absolutely delighted for our students in Years 11 and 13 who have worked incredibly diligently and been rewarded with some truly excellent results this summer.
At A Level, a very impressive 50% achieved A* and A grades, 78% achieved A*-B grades and 93% achieved A*-C grades. The average grade across the cohort was 'B+' and an A Level performance score against national benchmarks places student progress significantly above national outcomes in both the public and private sectors of education. Our retention rate was 96.6%. More details can be found in the attachment below.
There are so many individual successes and achievements for all the students to be so proud and all are now looking forward to embarking on the next phase at university to numerous exciting courses from Medicine, English Literature, Theatre Studies and Mathematics at a wide variety of prestigious Red Brick universities, including Cambridge, Bristol, Warwick, Leeds and Exeter and York amongst others, to employment and apprenticeships. Full details of Destinations can be found here.
At GCSE, the outcomes of our students are again superb. 56% of students achieved the top grades 7 – 9. The Attainment 8 score, based on the best 8 grades at GCSE was 65.02 with 98% of students achieving a standard pass of grade 4 or above in English and 88% achieved grade 4 or above in maths. The 'Basics' measurement of performance is the number of students who achieved a grade 5 or above in English and Maths, and is a very impressive 80.1%. Over 75% of students achieved the EBacc qualifications, which are based on English, Maths, Science, a Language and Humanity subject. Of those who qualified with the Ebacc, 93% achieved a grade 4 or above.
(Given the uneven impact of the pandemic on school and college performance data, the government has said you should not make direct comparisons between the performance data for one school or college and another, or to data from previous years).
These are fantastic achievements and enable a firm foundation for wonderful future opportunities with dreams and learning aspirations being achieved – these results open so many pathways for our students, and we wish everyone success in their future endeavours.
Enormous praise goes to our wonderful STAGS students for their fabulous achievements; witnessing them opening their results and seeing the fruits of their labours on results days made the months of revision (and indeed the worries of the past two year) all worthwhile and was a joy to behold. However, this would not have been possible without the fantastic support of parents and teachers and all involved in supporting our STAGS community, who provided continuous cajoling, nurturing, guidance and at times a good talking to! The unfailing support has been rewarded and to everyone I offer a huge WELL DONE!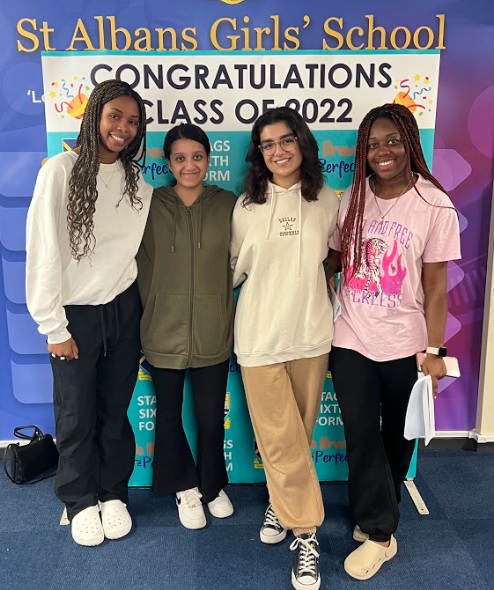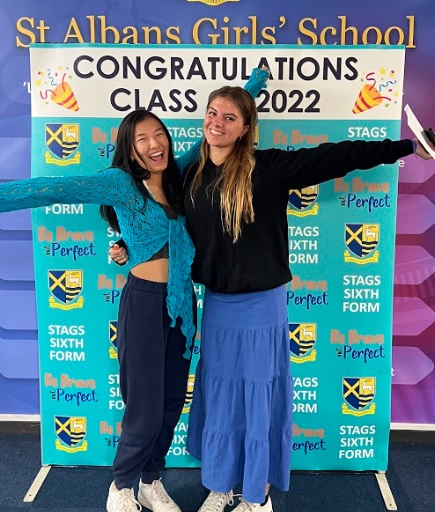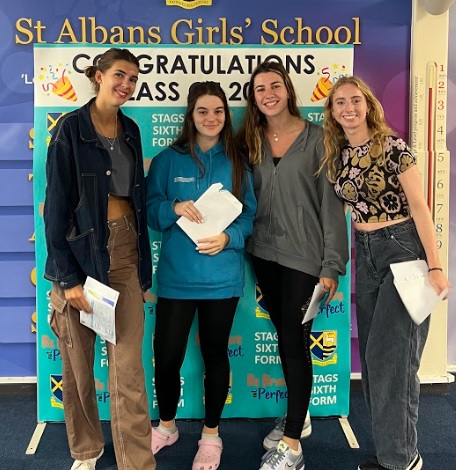 2022 GCSE and A Level Results can be viewed on the attachments below.
Link to the DofE school performance tables website here
STAGS performance data can be found here
For information and guidance on examination results 2022, please see the 'Examinations' page in the 'Learning' drop-down menu.