Examination Results
2023 A Level and GCSE Results
Congratulations to all of our students on their fantastic achievements this year in the public examinations. The outcomes for our young people have been superb at all levels, and this is a testament to all of our amazing staff who kept our students engaged, enthused and focused whilst providing excellent quality teaching, learning and support.
A Level
At A Level presently, a very impressive 32% of grades achieved were A*-A compared with 27% nationally; 69% of grades were A*-B; 88% A*-C and 99% of grades were A*-E. These figures will obviously increase as some students narrowly missed the next grade up by one mark and will have their papers remarked. We are so proud of our students' outstanding achievements. Their hard work and dedication over the past seven years at STAGS has definitely been rewarded and ensures an excellent foundation for their futures.
Amongst so many notable successes, many congratulations go to Rose and Rumaysah who both gained three A*s, an incredible achievement for them both who have superb futures ahead of them with Rose reading Psychology at Southampton and Rumaysah pursuing Fine Art at Central St Martins College of Art.
Students' efforts and dedication to independent study and wider reading, have contributed towards wonderful opportunities for further study in a range of Psychology courses, Social Work, Economics, Politics, Midwifery, Primary Education, Fashion Management, Digital Media, Law, Medicine, Film and Television Production, BioChemistry and International Relations being undertaken amongst many others. Vocations for students moving forward include Apprenticeships and Tanvi will be a visual merchandiser at Harrods! Millie, Inaya, Paige, Jessica And Leah are delighted with their exceptional success of 2 A*s and an A in their subjects and will read courses including at Bath, Nottingham and Loughborough.
Many congratulations also go to Amelia, Holi, Tara, Polly, Angelica and Ella on their commendable results. These students' exciting university courses will include Geography at Durham, Psychology at Manchester and Film & Television Production at the University of York. Congratulations to all students on their amazing achievements and very best wishes for their future endeavours. We wish all of our students every success, which is so richly deserved. These results are only possible because of the encouragement of parents and staff and we would like to take this opportunity to thank all who have supported our students so admirably in achieving their wonderful goals.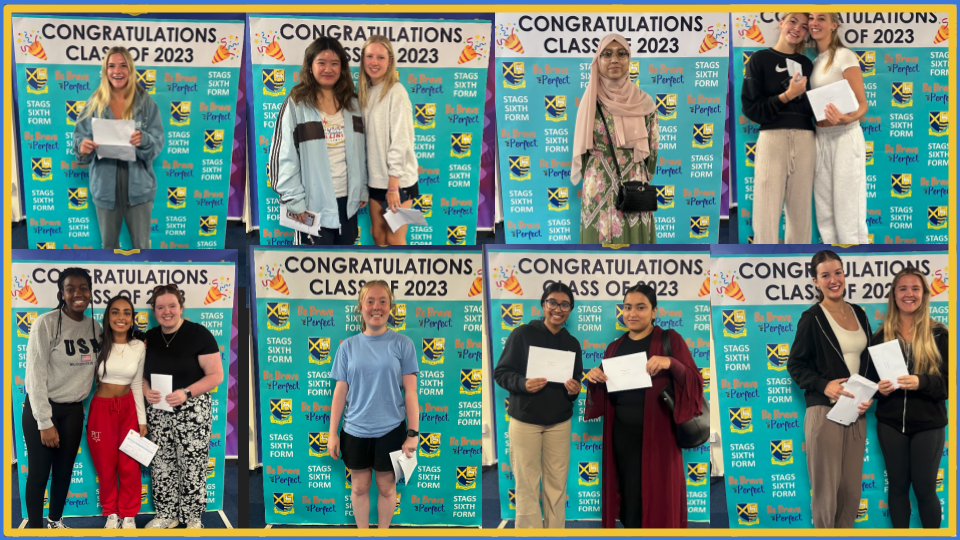 ​GCSE
Attainment 8 score: 65.1
Progress 8 score: 0.84*
(*This is based on an estimate from FFT in advance of the official published figure that will be available from the 19th October 2023)
---
We are overjoyed with the achievements of our students with 91% gaining grades 9-4 overall. Remarkably, 47% of grades achieved were 7-9.
Enormous praise goes to our wonderful STAGS students for their fabulous achievements. However, this would not have been possible without the fantastic support of parents and teachers who provided continuous cajoling, nurturing, guidance and at times a good talking to! The unfailing support has been rewarded and to everyone we offer a huge WELL DONE!
A special mention to Indie, Grace and Julia, who achieved Grade 9s putting them at the top of their age group nationally. Also congratulations to Nahia, Jess, Lily, Milly, Isobel, Maleeha, Erin, Alice, Jemma, Agnes, Susan, Savannah and Caitlin who achieved Grade 8s and 9s across their GCSEs.
In addition to A Level subjects being studied, students receiving their results today will also be undertaking college and apprenticeship courses including beauty therapy, child care, animal care, art foundation and public services.
The STAGS Community recognises that these results are only possible because of the unfailing encouragement of parents, carers and staff and the school would like to take this opportunity to thank all who have supported students so admirably in achieving their well deserved outcomes. We are excited to see what happens next for this brilliant cohort!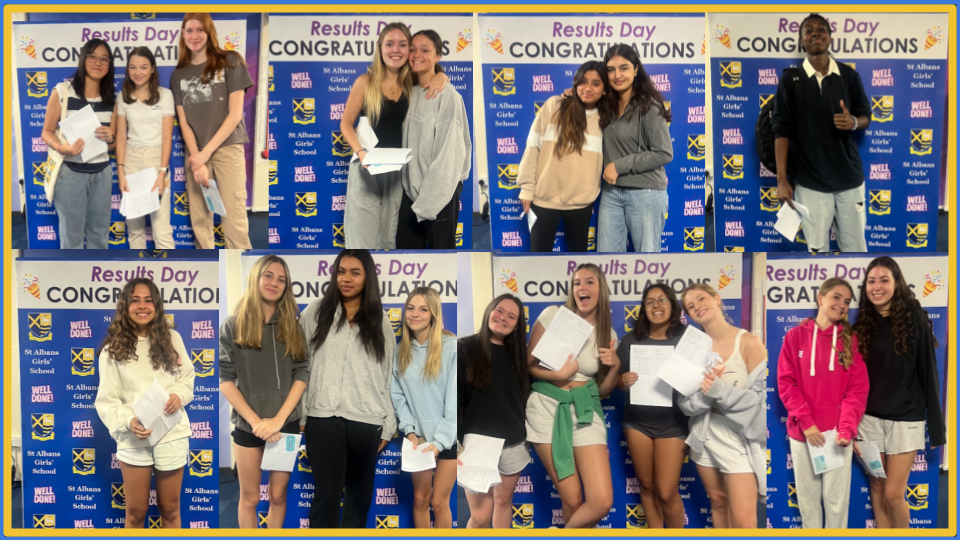 Link to the DofE school performance tables website here
STAGS performance data can be found here
For information and guidance on examination results 2023, please see the 'Examinations' page in the 'Learning' drop-down menu.