French

The facility to understand and communicate in French will give students an insight into another culture and way of life. Students will gain an appreciation of the way languages work, and will learn to understand their own language better. They will gain valuable transferable skills in analysing and translating texts accurately. Above all, they will develop an awareness of how language-learning can open doors both socially and economically as they consider their future plans.
The Department
Curriculum Leader: Mrs D Buckley
KS3
What will be studied?
Year 7 – Topics include: Myself, School, Hobbies, My area and Holidays
Year 8 – Topics include: Holidays, Celebrations, Free-time, Online activities and My area
Year 9 – Topics are taken from Modules 1 and 2 of the GCSE textbook covering Identity and Culture
What support is needed?
Module summary review questions are issued to students for each of the modules covered each year. This is the basis for preparation for assessments throughout the year and for the end of year examination.
Students have access to the ebook on Active Learn, and will be able to access audio files as well as transcripts.
How will they be assessed?
At the end of each half-term students are assessed in one of the four skills of Listening, Reading, Speaking and Writing. In addition, they will be assessed on translation from and into French.
End of year examination in Listening, Speaking, Reading, Writing and translation.
From Year 7 onwards, students develop their phonic skills. Assessments will include transcription and reading aloud in French
What other opportunities are there?
Languages Ambassadors
Each year, Year 8 students are invited to apply to become Languages Ambassadors (LAs). During the year, students will participate in a variety of language-based activities including investigating Christmas traditions in different European countries and learning festive expressions in other languages. They prepare presentations for assemblies and take part in taster lessons of other languages, for example Russian and Greek. The LA's will also represent the Languages department at school events, in particular at Open Evening.
Year 8 French study trip to Desvres
Students in Year 8 are offered the opportunity of attending a 3-day immersion study trip to Desvres. They experience a wide range of activities which are designed to increase their confidence in speaking and understanding French. One activity involves students buying their own lunch at a market, which requires them to speak to stallholders and to work out how to stretch their budget.
---
GCSE
Exam Board: Edexcel
Specification Number: 1FR0
What will be studied?
Studying a foreign language is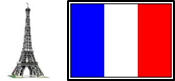 an excellent learning opportunity for those who enjoy talking to other people, finding out how language works and learning about different countries and cultures. GCSE modern languages aim to:
build upon skills in language and grammar acquired in Years 7-9
express and develop thoughts and ideas spontaneously and fluently
develop transferable language learning skills
deepen knowledge about how language works in order to increase independent use and understanding.
develop a greater awareness of the culture and identity of French-speaking communities and countries
apply the 4 skills of speaking and writing, listening and reading to a variety of contexts
There are common themes for all four skills:
Identity and culture
Local area, holiday and travel
Future aspirations, study and work
International and global dimension
Learning Methods
A variety of methods are used. They include:
becoming independent language learners
working with a wide variety of authentic texts
emphasis on active use and manipulation of language
developing fluency and spontaneity
enriching vocabulary through regular testing
making links to other areas of the curriculum
How is the course assessed?
Students will be entered for either higher or foundation tier papers in all four skills. Students must be entered for a single tier across all papers. All papers are externally assessed by end of course examination and each paper is worth 25% of the total qualification. There are no controlled assessments.
Listening and Reading papers: Almost all questions are set in English, with up to 4 questions set in French. Question types will comprise both multiple-response and short-answer open response questions. Reading paper includes a translation from French into English. No dictionaries allowed.
Writing: Candidates are required to produce written texts of varying lengths to express facts, ideas and opinions. There will be some choice of questions. The paper includes a translation from English into French. No dictionaries allowed.
Speaking: There will be one test of approximately 10 minutes conducted by teachers in April/May of Y11. This is recorded and sent to the Exam Board. Students will be given three tasks: a role play, questions based on a picture stimulus and a conversation. The conversation is based on a topic of the student's choice and another selected by the Board.
What texts are recommended?
Students will be using a classroom copy of the Edexcel Studio 9-1 GCSE textbook. This is also available on the Active Learn platform along with supporting audio files.
What websites are recommended?
BBC Bitesize and Edexcel for past papers
Active Learn – access to the e-Book at both Foundation and Higher. Students have access to audio tracks and to transcripts.
What equipment is needed?
A pen, a ruler and a highlighter are essential at all times. Students are required to provide their own folder and dividers in order to organise their work. A French dictionary (Eg Collins School Dictionary) must also be brought to each lesson.
---
A Level
Exam Board: Edexcel
Specification Number: 9FR0
Studying languages at A Level is a great choice! Studying a foreign language enables you to develop key life skills such as the ability to communicate effectively, work well in a team, express and justify opinions and have an understanding and appreciation of other cultures. These are practical and valuable transferable skills which are highly regarded by Universities and future employers.
During the course you will develop your fluency, spontaneity and accuracy in speaking and writing another language. You will also deepen your understanding of social, cultural and political aspects of the countries where the language you are studying is spoken. Who knows – you may become inspired to study or work abroad in the future!
Students have access to an e-textbook and other resources via Dynamic Learning. They will be set assignments using this resource.
Year 12 Languages students are encouraged to apply to become Languages Prefects. This role includes supporting the Year 8 Languages Ambassadors in the preparation and presentation of assemblies, supporting the Languages department at the Post-16 Open Evening and coming up with other ways to encourage a love of language and an appreciation of culture in the school community.
What will be studied?
Over the course of the A-level, students will study a variety of topics as listed below. Topics 1 & 2 are covered in Y12 and topics 3 & 4 in Y13. In addition, students will study a film in Y12 and a literary text in Y13 (see list of texts below). In addition to timetabled teaching hours, each student has a weekly conversation class . This session is dedicated to preparing students for the oral examination. Students will be expected to prepare for these sessions in advance.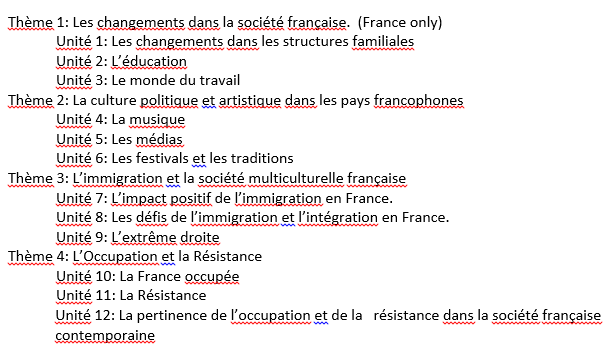 How is the course assessed?
The course is assessed by examination at the end of Y13. There are two written papers and one oral examination. The weighting of the papers is as follows:
Paper 1 – 40%
Paper 2 – 30%
Paper 3 – 30%
Paper 1 – Listening, Reading and Translation (2 hours)
Listening comprehension: students have independent access to the audio tracks
Reading comprehension: based on topic areas studied throughout the two years
Translation: into English
Paper 2 – Written response to works and translation (2 hours 40)
Translation: into French
Essays: Literature essay and film essay (based on texts studied over the 2 years).
Paper 3 – Speaking (21-23 minutes, which includes preparation time)
Students will be examined by their Teacher
Task 1: Stimulus card + discussion (based on topics covered throughout the 2 years)
Task 2: Presentation and discussion of Independent Research Project. Students will be required to present and engage in a discussion on a topic of their choice, related to the topic areas covered during the course.
What texts are recommended?
Y12 Set-text: Au revoir les enfants (film) dir. Louis Malle
Y12 Recommended text: Un Sac de Billes (novel) Joseph Joffo
Y13 Set-text: No et Moi (novel) Delphine de Vigan
Y12 Recommended text: Les Intouchables (film) dir. Oliver Nakache & Eric Toledano
What websites are recommended?
Dynamic Learning: students have access to the e-Textbook and to tests and support materials.
What equipment is needed?
A pen, a ruler and a highlighter are essential at all times.
Students will be required to provide a folder with dividers in which to organise their work.
A dictionary and grammar reference book are also essential.