Key Stage 3 Information (Years 7,8 & 9)
When students move into secondary school, we routinely make use of their KS2 Maths and English (reading) levels to determine their starting point from which to measure their progress. Alongside this, we also include results from the Cognitive Ability Test (CATs), which highlight strengths and areas for development. Nationally, there is a very strong correlation between this data and how students perform at GCSE, as shown in the table below: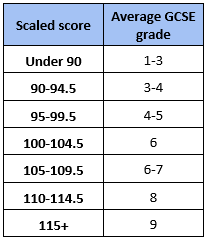 Teachers use this information in their planning, teaching and assessment. When planning lessons, teachers consider learning topics, using the National Curriculum for each subject as a benchmark against national standards and by breaking tasks down into different success criteria. Teachers will use all of the information available to help each student achieve measurable success.
At STAGS, we do not publish target grades for any student at Key Stage 3, as we have found that this can often create a barrier to learning. Targets are published in Year 10 and relate to GCSE outcomes at Key Stage 4.
Parents and carers will receive a report each term (three reports per annum). In Years 7, 8 & 9, students will receive a report including an Attainment and Attitude To Learning (ATL) grade for each subject. Students will also receive a Praise and a Progress comment from each subject teacher. The dates of these reports and the descriptors of each are included below. The Working At grades are directly linked to our KS3 curriculum. Teachers will regularly assess students against the curriculum as outlined on the individual subject pages, and use the data gained to make a holistic assessment of the students' attainment.
Attainment (Working At) guidance: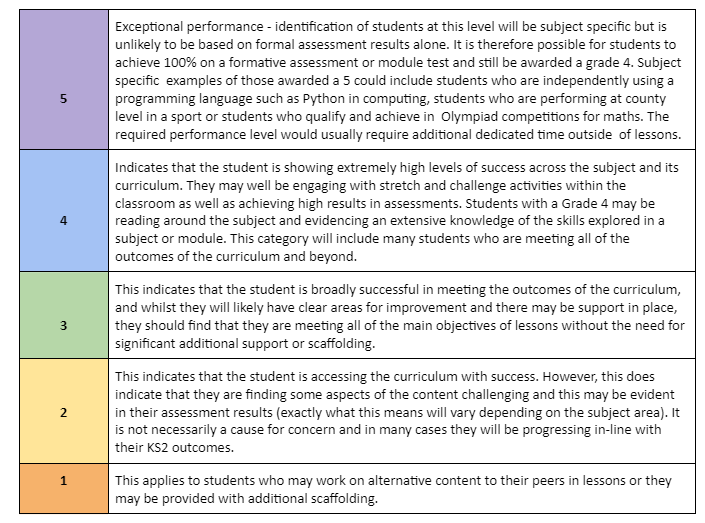 In Year 9, to reflect the transition towards KS4 and to support the options process, the descriptors will be linked to broad GCSE outcomes.
The numerical values attached to the 'Attitude to Learning' aspects of the report are defined as follows. As per the Working At number for individual subjects, the expectation is that students receive a '3' for 'Meeting STAGS Expectations'.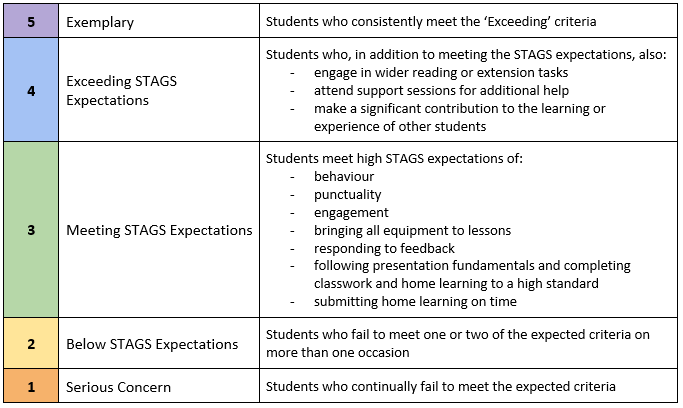 Current Comprehension Reading Age
We use the STAR test programme to calculate your child's current reading comprehension age at regular intervals. Students answer many questions that test their comprehension of selected extracts. It is natural for a student's current reading age to fluctuate throughout the year depending on performance in the test.
KS3 Reporting Dates 2023-2024
If you have any queries about your child's progress within a subject, please do not hesitate to contact their Subject Teacher. If your queries are more general i.e. across a number of subjects, please contact your child's Director of Learning.