Key Stage 4 - Core Religion, Ethics, Philosophy (REP)
(Core REP is completely separate, and different to, GCSE Religious Studies)
Core Religion, Ethics and Philosophy (REP) will occur once a fortnight, in accordance with the legal framework, with statutory guidance from the Hertfordshire Standing Advisory Council on Religious Education (SACRE).
REP should make a major contribution to the education of children and young people. At its best, it is intellectually challenging and personally enriching. It helps young people develop beliefs and values, and promotes the virtues of respect and empathy, which are important in our diverse society. It fosters civilised debate and reasoned argument, and helps pupils to understand the place of religion and belief in the modern world.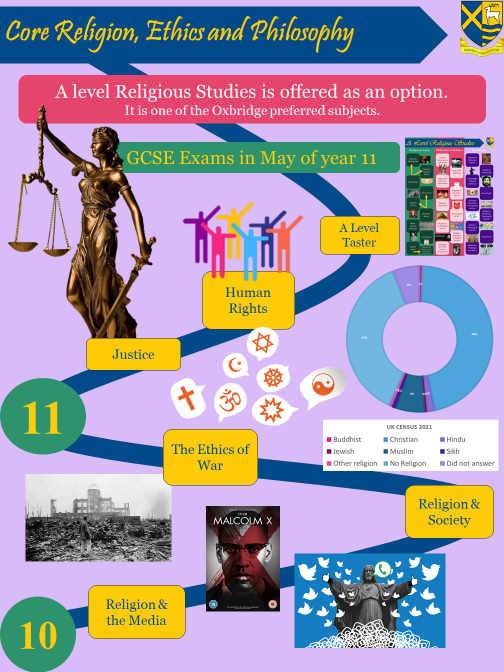 During the course of Years 10 and 11 student will study various topics including: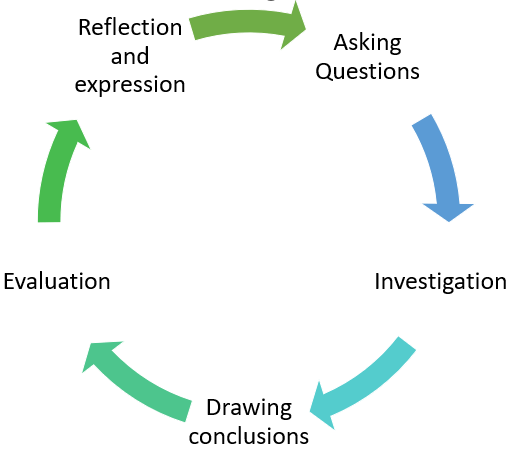 Religion and Media
Secularisation
War and Peace
Sin and Crime
Topical ethical debates
Minority religion
We will also introduce more philosophy, including: theoretical philosophy (metaphysics and epistemology), practical philosophy (ethics, social and political philosophy, aesthetics), logic, and history of philosophy.
Learning Methods:
One of the key methods we will use will be the enquiry model (see above diagram). Students should be able to critically use this model independently by the end of year 10.
Philosophy is an activity, or way of thinking, about certain subjects such as ethics, thought, existence, time, meaning and value. That 'way of thinking' involves 4 Rs: responsiveness, reflection, reason and re-evaluation. The aim is to deepen understanding. The hope is that by doing philosophy we learn to think better, to act more wisely, and thereby help to improve the quality of all our lives.
KS4 students should be working towards these goals
Use a range of increasingly complex religious, ethical and philosophical vocabulary. ∙ Demonstrate the ability to understand and evaluate a range of religious and non-religious worldviews applying these in a local, national and global context
Use their knowledge to analyse and synthesise personal and critical responses to a range of different issues which impact on the lives of individuals and communities, including current affairs
Form coherent, well-argued conclusions, demonstrating an increasing level of discernment based upon interpretation, analysis and evaluation of sources of wisdom
Careers link:
While it doesn't have the most obvious pathway to a career, REP will equip you with a vast amount of transferable, and desirable, skills that can be applied to any number of professions. For example, the acceptance rate for philosophy majors applying to law school is higher than all other majors (except physics).