Music
The Department
Curriculum Leader: Mrs E Mead
Music is taught to all students in Years 7 to 9 and covers a wide range of styles from around the globe and from various points in history – building upon the skills of performance, composition and analysis we are able to explore music from Afrobeat, to midi sequencing, through to Zadok the Priest.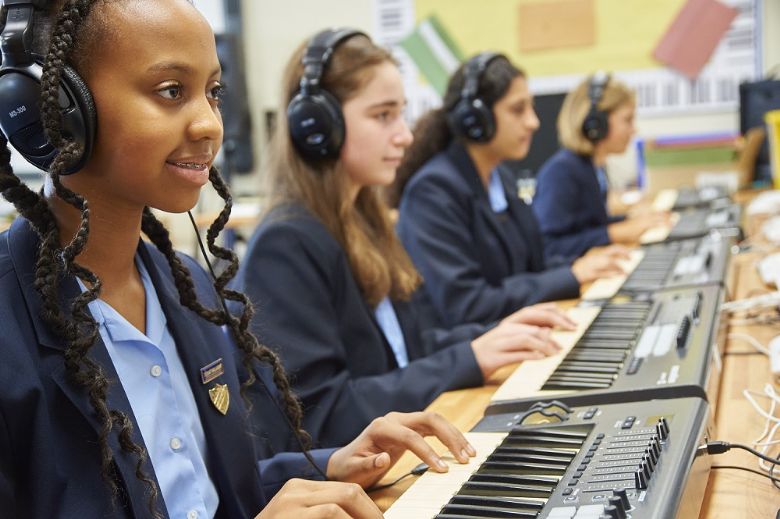 We continue this musical journey by offering music at both GCSE and A level as well as our team of visiting music teachers from Hertfordshire Music Service offering ABRSM and Trinity examinations specific to students' instruments. The Music Department hosts a team of highly experienced visiting peripatetic teachers, teaching a range of instruments on an individual basis. These are highly popular and a significant percentage of students undertake such individual instrumental lessons.
There are a range of extracurricular activities including choirs, orchestra's, songwriters clubs, sign choirs, steel pans, a cappella, popular music clubs, string and wind chamber ensembles and many more. These clubs meet regularly at lunchtimes and after school and perform in regular concerts, recitals and showcases held at the school.
KS3
What will be studied?
Year 7
Voices from around the world
The Elements of Music
Orchestra and Classical traditions
Drumming traditions, focusing on Ghanain music
Keyboard Skills - Bronze award
Year 8
Jazz and Blues - using fretboard instruments
Keyboard Skills - Harmony, Silver award
Drumming traditions, focusing on Samba
Film and Advertising Music
Year 9
In Year 9 we want to promote more student autonomy and responsibility, the skills they have learned in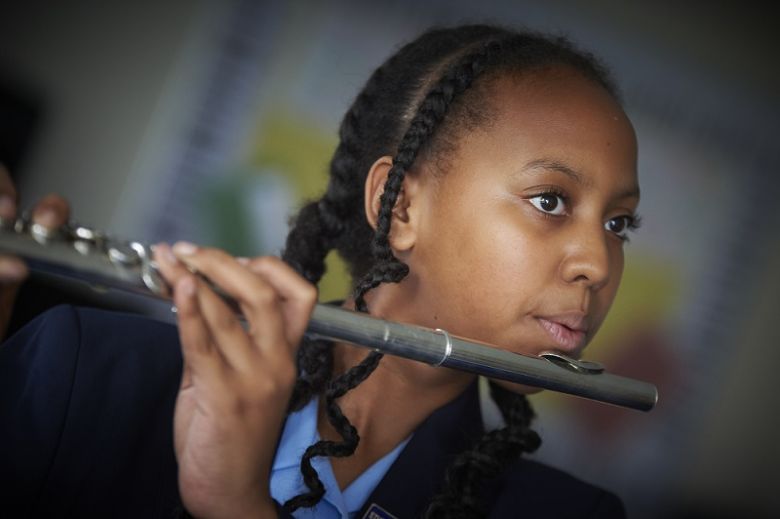 Year 7 and 8 are not culminated into some real world application projects and an idea of where music is headed. We like to use informal learning strategies heralded by 'Musical futures' to achieve and encourage students in these tasks.
The Psychology of music
Classical Music remixed
Keyboard Skills - Arranging, Gold award
Music for Media
What support is needed?
Encourage them to learn an instrument privately.
Practice at home.
Join an extracurricular club.
How will they be assessed?
Regular listening tasks
Regular quizzes
Regular music theory assessments
Tests at the end of each module assessing longer practised project work
---
GCSE
Exam Board: Eduqas
Specification Number: 601/8131/X
Course Content
Unit 1: Performance
A portfolio of performances, usually consisting of:
One solo performance
One ensemble performance
Unit 2: Composition
Two compositions (coursework) of approximately two minutes each
Unit 3: Listening & appraising examination (1hr 15 mins) based on listening extracts from set works from the following areas of study:
Musical Forms and devices

Including a set work of Bach's Badinerie

Music for Ensemble
Film Music
Popular Music

Including a set work of Toto's Africa
How will they be assessed?
Coursework is marked both on an interim and then, at the end of the course, a final basis. Other informal assessments take place throughout the course. Students will complete analysis questions and homework throughout the year to check their understanding of the Set Works. There is a final Listening examination at the end of the course based on listening extracts. Performance is examined through a final privately recorded performance of a solo and ensemble piece, or two ensemble pieces.
Performing coursework = 30%
Composition coursework = 30%
Listening exam = 40%
---
A Level
Exam Board: Eduqas
Specification Number: 601/8146/1
Course Content
Unit 1: Performance
A recital of two (25% of final grade) or three (35% of final grade) pieces on their chosen instruments. One of the pieces in the 25% option, and two of the pieces in the 35% option must link to an Area of Study. The recital should be of between 6 and 8 minutes for the 25% option, and 10 and 12 minutes for the 35% option at a minimum standard of Grade VI.
Unit 2: Composition
A choice of two (25% of final mark) or three compositions (35% of final mark). Depending on the option, one or two of these will be in relation to a brief set by the board, and the second or third will be a free choice.
Total time for the 25% option would be 4-6 minutes, and for the 35% option, 8-10 minutes.​​​​​​​
Unit 3: Students sit a 2 hour written paper 'Appraising'
Knowledge and understanding of musical elements, contexts and language will be explored through the study of set works that fall into the following categories; The Western Classical Tradition, one of Rock & Pop, Musical Theatre or Jazz and one of Twentieth Century Music, or Music into the Twenty-First Century.
At present, students focus on The Western Classical Symphony, Musical Theatre, and Music in the Twentieth Century as the allotted areas of focus for A level.
Students will also be required to apply this knowledge to unfamiliar works.
Assessment:
A combination of learning methods will be employed – ranging from research lessons, teacher and student led score analysis, practical performance, individual composition time and listening and harmonic exercises.
Why Music at St Albans Girls' School?
We have a well resourced music department with 5 practice rooms which can be booked for individual or group rehearsals. We have 3 music classrooms, one of which has 20 computers equipped with Sibelius for composition work and a range of varied DAW to practise and learn about recording and creating their own music. We have a team of visiting peripatetic teachers who offer individual tuition on most orchestral and rock/pop instruments, and a large number of ensembles which are open to all AS/A-level students to join, including 1st Orchestra, Wind Band, String Chamber, Flute Choir, Chamber Choir, A capella, guitar group, songwriters club, popular music club, steel pans, and opportunities to run and take a lead on musical extra-curricular activities themselves.
Expectations of students:
To regularly attend peripatetic music lessons and to participate in at least one extra-curricular Music club, set preparation to be completed as well as background reading and listening around the historical context of set works. Regular instrumental practice must be undertaken.
What websites are recommended?
What equipment is needed?
Your instrument
Access to repertoire for your instrument (your sheet music)
Manuscript paper
Writing paper
Basic stationery
Folder with dividers
Career Paths:
As music combines well with both arts and sciences, a range of careers are possible. However, direct musical careers may be in performance, composition, workshop leading, education, publishing, arts administration and management, computer technology, theatre and music therapy.